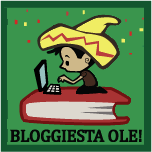 I am participating in
Bloggiesta
(hosted by
Maw Books Blog
) this year. It runs January 21st - January 23rd. So please bear with me while I make changes to my blog during this time. I'm guessing that I'll probably be working on some things well in to next week, but most of the format and design changes will probably be done today or tomorrow.
1/23/11 Update
I was able to get a lot of the design changes done on Friday. I was also able to get a handful of other things completed that I had been thinking about.
1) I added legal babble to my sidebar - letting you know that if a book was received for a hopeful review, it will say so in the review itself, otherwise the books are either my own or borrowed.
2) I posted my rating system on my sidebar
3) I started, but haven't finished, my challenges 2011 page.
4) I updated my pages
5) Created a review policy
6) Read a bit about favicons and gravatars and created both
7) Labels - this is one that really needed some help and I wasn't sure what I was going to do. I knew I needed to clean them up though. I spent a lot of time working on this. I deleted labels that weren't good and haven't been used since 2009. I renamed the challenge labels for 2011 to show the date 2011. I updated my label cloud to only show those I felt necessary (such as not showing the ones for 2010 challenges). I'm happy with it so far, still think I have a lot of labels, but it's much better than it was.
I still want to create some future posts (and I have one book review to do) but I'm taking a break for now. I want to go read!!!!!