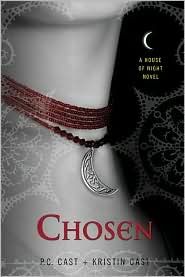 #3 House of Night
Copyright: 3
Publisher: St. Martin's Press
Genre: Young Adult
Pages: audio 7 disks/8 hours 32 min
Challenges: Strong Heroine, Urban Fantasy, Young Adult, Audio
Author's Website
My rating: 3/5
Simple Description:
Zoey has a lot of things going on in this book. Not only is Zoey still torn between dating Eric and/or Heath, we now have a sexy male teacher who is making the moves. How is Zoey supposed to pick between the three of them? Is her attraction for Heath only because they have imprinted or is it something else?
Zoey is also still dealing with what to do with Stevie-Ray. She really wants to tell her friends about what's going on but she knows that the High Priestess would be able to tell if they knew and she knows that currently the High Priestess can't know what is going on. An unlikely allie helps Zoey.
As if this wasn't bad enough, Zoey discovers a teacher who has been murdered. A quote is pinned to the teacher's clothes and the belief is that this was done by humans. Will this start a war between the humans and the vampires?
Now what you really want to know....my thoughts:
I have really been enjoying this series. This is the 3rd book in the series but in "real" time only a couple months have passed since Zoey was marked. It seems like her life is just destined to be full of drama. Everything is just so different for her and she has so many tough decisions to make, and she doesn't always make the right one.
I could tell that the sexy teacher was going to be bad news and wanted her to see that too. Unfortunately, she didn't. I chalk that up to her young age and lack of experience though.
I can't say I agree with everything Zoey did in this one, but I think this one does qualify for the strong heroine challenge because she is strong. In the end she knew she did wrong but she still had to make some tough decisions and she did so. She realizes that she has suffer sometimes in order to do the right thing. And sometimes she'll suffer when she makes the wrong choice.