I know Christmas isn't supposed to be about the gifts, but sometimes you just can't help but be excited about them. This year Husband bought me the
Garmin Forerunner 305
. Of course, I did ask for it, but it's still nice of him to give it to me. I've been using it for two weeks now and I'm still in love with it. It makes me smile.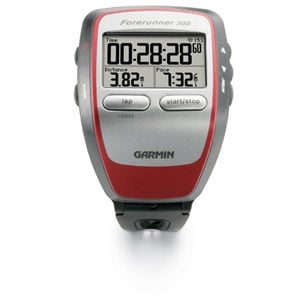 Taken from Garmin's website
The Garmin Forerunner 305 is basically a a sports watch (or personal trainer as they like to call it on their website) that is GPS enabled. One of the cool features that I'm sure I'll end up testing out is a navigation feature. I tend to get lost, a lot, when I run at Castlewood. I run at Castlewood every weekend that the weather is nice (if too much rain or snow I don't since it's trails and dangerous for a klutz like me). There is a feature on this watch where you can mark a starting point, go out for your run and if at some point you get lost, you can tell it to get you back to start and it will help you. I think it shows a compass and tells you want direction to go.
This watch will track my total time running, my distance, and my pace. Since it's GPS enabled, there's no worries that the distance is wrong or my pace is off (something I was fighting with a lot when using my Nike+ sports watch once I increased my mileage to more than 3 miles).
There is also a heart rate monitor included with it and I'm now able to record my heart rate. This was something I wanted because whenever we start I family I hope to still run while pregnant and I'll have to watch it so I don't over do things.
The other thing this one will do is help me train for the short triathlon I'm hoping to do. I can buy at attachment so I can use this with a bike and record my workout info. It's waterproof, and it has an option for "other sports" so I think I can track laps for swimming too.
As you can see from the image above, on one screen I can see my time, total distance, and pace. So nice! OH..and there is an auto pause feature. If I have to stop running, it will automatically pause the time for me. When I start running again it will automatically start it. This really comes in handy when I do my runs during the week since it's too dark to go to a park and I'm running on sidewalks and have to stop often for cars.
One feature I really love, I have it set to record data in laps. I've set the laps for 1 mile. Once I upload the data from the watch to my pc, I can view my run in splits. I can get my total miles and average pace. I can also see what my average pace was for each mile.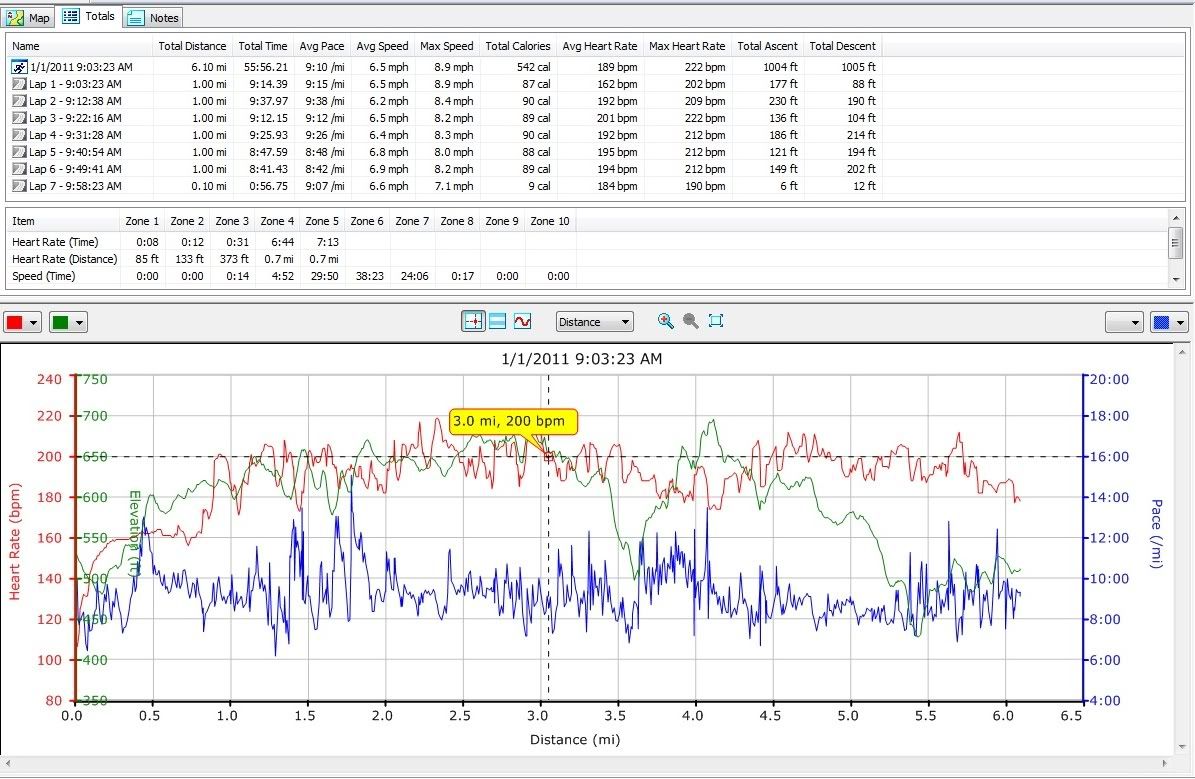 Above is an image of the data I see for one of my runs (if you click the image you will get a bigger picture). The top section shows my data per lap (or mile for me) and the total info. You can see the distance, the average pace, my heart rate info, and also elevation.
The bottom part shows a graph of some of this data. The red is my heart rate, the blue is my pace, and the green is the elevation. I like looking at the graph to see if I can pin point where the hills are in my workout.
This particular run was at a local park, Queeny Park, and there is a huge hill pretty close to the beginning, then a bit before mile two there is a hill series. Then there are hills periodically throughout the rest of the course. The normal route I take is one big loop and it's roughly 4 miles. I had wanted to increase my mileage to 5 miles so at one point where I was getting close to the parking out and towards the end of my route, I took a different trail in hopes I could find a way to loop back and not get lost (you see a trend here right?). I was able to do this without getting lost, and I saw a coyote too! I also ended up doing a big hill, that at first didn't look too bad because it didn't seem too steep, but boy was it long! You can see the big hill at 0.5 miles. You can see that I had a big downhill and then uphill between miles 3 and 4. That was the extra loop I added in.
I don't know about you, but I think it's fun to look at all this data. It's fun to try and find where the hill series was in that graph. I also like seeing my splits for each mile. How odd that my pace would be faster during miles 5 and 6. I would never have imagined that. I was still doing hills and you would think I would be tired from running 4 miles already. I can tell you this though, for the first 3 miles I wasn't feeling too great and was thinking maybe I would just do 4 miles and call it a day. Then at some point after 3 miles I got my running stride and started to enjoy the run and feel good and decided to push it to 6 miles. I hadn't realize I increased my pace though.
So there you have it, the thing that is making me smile lately. Sorry if I bored you with all the running talk. I suppose that's what happens when you mix a runner and an IT person who likes gadgets, you get somebody overly excited about their running toys.