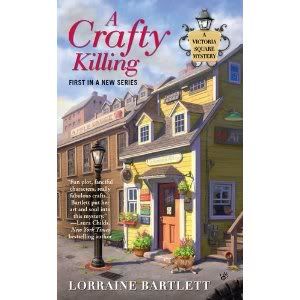 #1 Victorian Square Mystery
Copyright: 2011
Publisher: Berkley Prime Crime
Genre: Mystery
Pages: 292
Challenges: 1st in a series, Crusin' Through the Cozies
Author's
Website
My rating: 2.5/5
Simple Description:
Katie Bonner's life can't seem to get easier. She was separated from her Husband Chad after he used all their savings towards an investment without consulting her when he died in a car crash. She became part owner of Artisan's Alley, something she tried not to think about. Now it seems the main owner of Artisan's Alley is dead, and it was murder.
Katie ends up becoming the main owner in this company. While she doesn't really want anything to do with Artisan's Alley she knows that the only way to get the money back that her husband invested is to spruce up the place.
Things don't go well though. Not only does Katie have to deal with a detective who doesn't seem too interested in solving the murder, there are issues with some of the artists, her office in ransacked, and there's another murder.
My Thoughts:
I had been really looking forward to this cozy and I came away a bit disappointed. I really just couldn't connect with Katie. She was so angry and so quick to judge and lose her temper. I understand that she's still grieving the loss of her husband and feeling betrayed, but still, she was just too angry. I did find that towards the end of the story she either lightened up or it just didn't bother me as much because I found myself not being annoyed and enjoying the story more. Plus, while with most cozies it's true there is going to be a character we aren't supposed to like, it's also true that it's not supposed to be the main character.
I thought the story itself was good, I liked the concept of Artisan's Alley and Victorian Square and I think it will make for an interesting setting. It also gives the story lots of regular characters that could grow with the series. I also liked how Katie went about investigating the murders. While she didn't drop everything to investigate, she did ask questions and look into a bit, but fit it in with her daily routines.
However, after saying all that, towards the end I found that I was enjoying the story more and the writing and the main character didn't bother me as much as it had earlier in the book. I don't know if I just got used to it and let it flow or if it lessened a bit. By the time I ended up turning the last page of this book, I had decided that I would read the 2nd book in the series when it comes out and give it another chance. The series definitely has potential. I think Katie needs to mellow out a bit and the writing needs to flow better, and if both of those happen I think this series could be really good.
Please don't let my review alone influence your decision on this one though, another blogger who reads a lot of cozies,
Dollycas's Thoughts
, reviewed this book and she loved it.
Thanks to Penguin for providing this book for review.