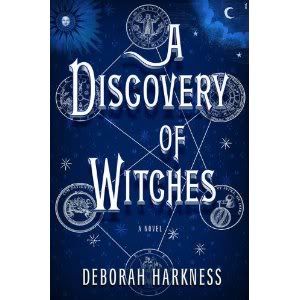 #1 in the trilogy
Copyright: 2011 (pub date is 2/8)
Publisher: Viking
Genre: Fiction
Pages: 579
Challenges: New Author Challenge, Urban Fantasy, 1st in a series
Author's
Website
My rating: 4/5
Simple Description:
Diana Bishop was born into the Bishop family..a witch family. However since her parents died when she was 7 she turned her back on witchcraft and has rarely used it since. She is a historian and when she requests some books from the library she is working at one of then happens to be magical. The book has magic so strong she is a bit scared of it. She returns the book thinking all will be fine, but the trouble has only just begun.
Before Diana knows it, she is surrounded by vampires, goblins, and other witches. One vampire in particular, Michael, won't leave her alone. In fact, he seems to be protecting her from the other magical beings. Diana soon learns that the magical manuscript she called forth has been lost for years....and it's wanted by everyone.
Soon Diana is forced to face her past and the fact that she is a very powerful witch, who actually knows (almost) nothing about witchcraft. She also finds that she's attracted to Michael and that is a problem because the different magical beings aren't supposed to mix with each other.
My Thoughts:
Here's the thing, I have some issues with this book, yet, I absolutely loved it! I also can't put my finger on exactly what it is about the book that I loved so much. In fact, I finished this book several days ago and put off doing the review because I wanted to ponder it for awhile, and I still can't figure out what it is about it that I loved it so much.
First things first though...the things that bothered me. The book is really long, and while there is action throughout the book, most of it is at the end. There isn't anything going on that makes you go "Oh! I can't put the book down now!" Yet, I did feel it moved along well and it did keep my interest. There just wasn't something constantly happening. I also felt that it could have probably been shorter. Yet, again, I have to stress that it didn't ruin the book because I did really enjoy it.
There were also several times when I had to re-read sentences or short paragraphs. They just didn't realize make sense to me the first time I read them. I usually find this with new authors though, and I do believe this is the author's first book, so it's not uncommon. It also didn't rune the book for me, but I wanted to make sure my readers were aware.
This book is also the first in a planned trilogy, so of course this one had to stop with a bit of a cliff hanger. Nothing was really wrapped up..the stories still going..only I can't read it because the book is finished. I'm just not a fan of books that end with a cliff hanger, so this is more just a personal thing.
Now...I mentioned a couple things that bothered me. So what did I like about it? I loved Michael. I just adored his character. I also liked Marthe and his vampire Mom. I also liked Diana, although sometimes it got annoying that she resisted magic so much. But overall I did really like her. I also liked Diana's family, her Aunt Sarah and her partner Emily.
I liked how there are witches, daemons, and vampires...yet they aren't really supposed to mix and most are ok with that since they don't really like each other anyway.
I loved how history and historical figures are woven into the story and how it relates to Michael and his past life.
I think the book, for the most part, was well written. The story seemed to flow for me, even though there wasn't always a ton of action happening. I was interested in the story and I wanted to know what was going to happen next. I couldn't wait to find out how it was going to end.
So...in a nutshell I did love this book and I do highly recommend it. I think a lot of people are going to start the book and get caught up in the story and end up really enjoying it. I'm so glad I accepted this book for review, even though when I got it in the mail I had an "oh crap!" moment when I saw how big it is. lol
Now I'm anxiously awaiting the next one to come out.
Thanks to Viking/Penguin for providing this book in hopes I would review it.