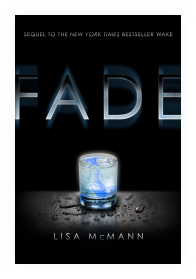 #2 Wake trilogy
Copyright: 2010
Publisher: Simon Pulse/Brilliance Audio
Genre: young adult
Pages: audio 4 disks
Challenges: young adult, audio book,
Author's
Website
My rating: 3/5
Simple Description
:
This is the follow-up story to Wake, where we first meat Janie and Cabe. In this story Janie is now working for the police department along with Cabe. The newest case is one involving teachers sexually assaulting students at their high school. Janie wants to help with this one but Cabe has some issues because he doesn't want her to be hurt. This causes some strain in their relationship, at times they are closer, other times they seem further apart.
Along with trying to figure out which teachers are praying on students, and catching them, Janie is also dealing with knowing what to expect with her gift and how to control it.
My Thoughts:
I thought this was a great book. I don't normally read series books so close together so I was a bit worried how well I would like this one since I just finished Wake last week. (side note..the reason I listened to them so close together is that I finally decided to play around with the option the library has of being able to download books and put them directly onto an mp3 player, burn cd's, or just listen to on your own pc. I decided to test it with this one because all the other titles I looked up either weren't available for this option or I would have had to wait..and who likes waiting. lol).
Anyway...back to me being worried that it would be an issues listening to the two books so close together. It wasn't an issue at all. In fact, the books are so small that it could have easily just been one big book. This one picks up almost right where the other one ends. It was great to see Janie and Cabe become closer and work through some issues in their relationship. I also liked seeing them work together to solve the mystery.
After reading book 2 in the trilogy I definitely think it's a fun series and recommend it to others. I imagine you'll see a review for book 3 in the near future.
(another side note - I tested listening to the audio book while running. In the past I haven't wanted to do this because when I run I tend to tune out music a lot as I'm mentally checking how I feel, my form, etc. I'm happy to report that I've listened to audio books on 3 recent runs and all went well. I payed attention to the book and was never lost. So happy I've found a new way to "read", it will surely come in handy when I start training for my 1/2 marathon.)
Audio Review:
Ellen Grafton is the narrator for Fad, she also did Wake. She did another fantastic job with this book and I have my fingers crossed she'll be the narrator for the 3rd book in the trilogy too.