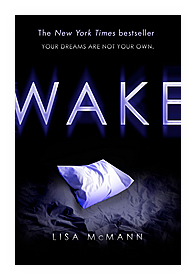 #1 Wake Series
Copyright: 2008
Publisher: Simon & Schuster
Genre: Young Adult
Pages: audio 4disks
Challenges: New Author challenge, 1st in a series, Young Adult, Audio
Author's
Website
My rating: 3.5/5
Simple Description:
Janie is a 17 year old highschool student. You might think she's a normal teen, except for a couple of things. She lives on the "wrong" side of the tracks, her mother's an alcoholic, and, oh yeah, she is somehow sucked into other people's dreams. It's been like this for a long time and in the past she's been able to deal with it but it's happening more often and she's witnessing some nightmares.
Janie believes she needs to find a way to pull out of the dreams and deal with this ability, before more people notice. As it is, one guy has already noticed. Cabe lives close to Janie and he soon realizes something is different about her. They are attracted to each other but it's unclear if Janie's ability will cause issues between them. Especially when she is sucked into one of his nightmares.
My Thoughts:
I thought this was a really fun and good story. I was interested to see what would happen between Janie and Cabe. I felt frustrated sometimes because I wanted Janie to see that things weren't what she thought, but I guess that's part of the story. She is a highschool student after all and new to relationships, so she's not going to see everything that we would, as the reader (or possibly as being older and much, much wiser. haha).
I thought the whole idea of her being sucked into the dreams is rather interesting. I liked how the story left off, but won't say more because I don't want to ruin it if you plan to read it.
I'll definitely continue with this series, so far there are 3 books. In fact, I was playing around with downloading audio books from the library and tested it with the 2nd in this series, so I'm already listening to it.
Audio Review:
Ellen Grafton is the narrator for this book and I think she does an excellent job. I think she gets Janie's tone correct and also changes her voice a bit for the different characters. I enjoyed listening to this one on audio and will continue with the series this way since I don't actually own the books.