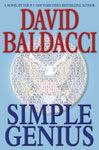 #3 Sean and Maxwell series
Copyright: 2007
Publisher: Hatchette Book Group
Genre: Mystery
Pages: 530
Challenges: Off the shelf, Mystery and Suspense
Author's
Website
My rating: 4/5
Simple Description:
This book starts off with Michelle Maxwell getting herself into trouble and Sean King bailing her out. Not that Michelle really feels like she needs help. Helping Michelle takes all the money Sean has in the bank and since work hasn't been easy to come by lately he goes to Joan for help, the last person he wants to beg for a job. Joan has a job for him. There was a death at Babbage Town, one of the scientists was found dead on the other side of the river at Camp Perry, a CIA camp. It looks to be suicide, but Sean is sent there to do some more digging and to see if it is suicide or if it was murder.
At first it's frustration for Sean because everyone is so secretive about what is going on at Babbage Town. He doesn't think the man's death was a suicide but the FBI, who is also involved, believes it is. Soon there is another death and Sean knows that one was murder.
Luckily Michelle is able to join Sean and the two of them are able to piece together what is happening and get themselves into a whole lot of trouble at the same time.
My Thoughts
:
This is the 3rd story in the series and so far my favorite. Of course, each time I read one in this series I declare it a new favorite. I just love the characters of Sean and Michelle. They are both so strong, yet have their own issues. They work really well together, even though they get on each others nerves.
The story with this book was very interesting too. I liked how it started off, how Michelle was having some problems and the two were split up taking care of different things. But of course I liked it when they got together to go after the same bad guys too.
If you like mysteries, I definitely feel you should check out this series.