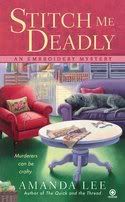 #2 Embroidery Mystery
Copyright: 2011
Publisher: Berkley Prime Crime
Genre: Mystery
Pages: 336
Challenges: Crusin' Through the Cozies, 2011 Pub Challenge
Author
Website
My rating: 3/5
Simple Description
:
It's been a couple months since Marcy Singer opened her store and found a dead man in her closet. Things are going well, she's enjoying the work and the town. Although, she's not happy about the cold..the virus and the weather. Unfortunately, things are about to get a bit sticky again. When an old lady comes into the shop and appears out of breath and a bit shaky, Marcy gives her some tea. When the lady gets worse but not better she calls 911. She soon learns that Louisa Ralston, the old lady, died due to heart complicates. And it wasn't natural. Soon Marcy is the lead suspect. What adds to the mystery of the woman's death is that before she died she showed Marcy and old sampler that had been in the family for a couple of generations and asked for her help in finding Ivy. Marcy doesn't know if Ivy is a color of thread the lady wanted or if Ivy was a person. Of course Marcy decides to investigate a bit, in order to clear her name and figure out what was meant by Ivy.
My Thoughts
:
I enjoyed this cozy. I really like Marcy and I like that the town is made of of small, independent shops. I like that while those aren't always the focus of the story, you know they are there and it helps with the atmosphere. Who wouldn't want to go to the local coffee shop for pastries and a sandwich, browse at the embroidery shop, then head to the micro-brewery for a beer and dinner? I like the re-occurring characters in the series too. While some were not as prominent in this book as they were in the first, that's ok. They didn't need to be. It was good just to have them mentioned once in awhile and I imagine we'll read more about them as the series grows. I thought it was interesting how the author brought Marcy's Mom back into the story too. While I had figured out who the murderer was well before Marcy and the police, that didn't spoil the story for me.
My only complaint is that the writing could be better. It just felt choppy at times and I didn't think it always flowed. I thought sometimes we got too much detail info that we didn't need...things that had nothing to do with the murder at all.
However, I still feel this is a good story and the series does have a lot of promise. I know I'll be watching for book 3.
Thanks to Berkley Prime Crime/Penguin for providing this book for review.