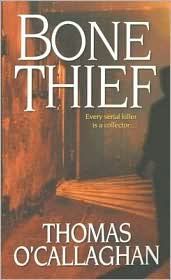 #1 Lt. Driscoll
Copyright:2006
Publisher: Pinnacle
Genre: Mystery
Pages: 377
Challenges: 1st in a series, New author, Mystery and Suspense, Buy 1 book and read it
Author's
Website
My rating: 3/5
Simple Description:
When a woman's body is found without a head, feet, hands, or even any bones, the police know there is a madman on the loose. Lt. Driscoll is in charge of the investigation and he has a sick feeling this is the first of many. When the second body is found, he knows they are dealing with a serial killer.
What kind of sick individual removes all the bones from a body and then leaves the on display? How is this guy picking his women. At first there doesn't appear to be any link between the woman. That is, until Moira involves herself on the case. Moira is a teenager who is a wiz with computers and she takes it upon herself to do some digging and provide Driscoll with the info.Driscoll knows this isn't right but isn't too sure he has a say in the matter, Moira seems to do what she wants.
Driscoll is trying to solve this horrendous case while also dealing with some of his own personal issues. His daughter was killed several years ago in a car accident that left his wife in a coma. He is starting to have feelings for his partner, something his partner ready accepts, but fees like that would be cheating on his wife.
Along with solving the case of the bone thief, Driscoll also has to come to terms with the personal issues.
My Thoughts:
I didn't love this book, but I enjoyed it. I thought it was a pretty good story all around. I liked Driscoll even though he had his own faults. He is human after-all. I liked Moira too, what a spunky character.
In this book we know who the bone thief is and we get parts of the story from his point of view. Part of his story takes most of the book to come out. We know he had a bad childhood, until he was adopted anyway. But it isn't until the very end that we get a full picture and we learn what really happened.
There is a second book in the series and I'm definitely going to check it out. I think this one was a good start to the series and I did like it, definitely worth my time reading.