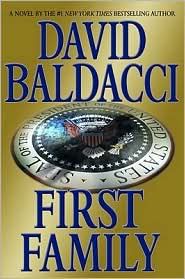 #4 King and Maxwell series
Copyright: 2009
Genre: Mystery
Pages: audio
Challenges: Mystery and Suspense, Audio book
Author's
Website
My rating: 4/5
Simple Description:
Sean and Michelle are on their way to meet with a new client. It's the sister-in-law to the wife of the President and Michelle is interested in how Sean knows the two families. When they get there, they find that things aren't as expected. Sean goes around back and Michelle stays in front where she is soon in a gun fight with two men who are wearing what appear to be military grade body armor. They go inside to find the wife dead, the Husband hurt, two of the kids ok, and the oldest daughter missing.
Since this is a kidnapping and the family has a strong tie to the first family, the FBI and secrete service are involved. However, the first wife hires Sean and Michelle to figure out what's going on.
While trying to wade through the lies and red tape on the kidnapping and murder, Michelle has some a family emergency. Her Mom has been murdered. Michelle goes home to be with her family and look into the murder, as well as face her past. She calls in the one guy she trusts to help her out, Sean.
My Thoughts:
I thought this was an excellent follow-up to Simple Genius. One of the things I loved about Simple Genius was that we had the one, main, murder mystery as well as a secondary story revolving around Michelle. What I love is that the secondary story didn't end with the end of that novel. Instead, the author carried it on to this book and it worked really well. I liked having the two different stories and seeing how Michelle and Sean dealt with both of them. I also loved that there was more exploration into Sean and Michelle's relationship too. Loved the ending! (and that's all I'm saying about that).
With this book we know what is going on in regards to Sean and Michelle looking for the kidnapper but we also know who the kidnapper is and we get his side of the story. The story goes between the two so we get updates as needed. Sometimes this doesn't work very well and sometimes it does. Luckily, this is a case where it works out really well for the story.
This quickly became one of my favorite series and even though I started it last year, I'm happy to say I'm already caught up in it. Well, that is until next month with the next book in the series is published. That's ok though, I already have plans to buddy read it with some friends.
Audio Review:
It's kinda funny. I started out by downloading this book from the library onto my ipod. Then my requested audio CD copy was ready for me to pick up, so I picked it up and started listening to it in the car using the cd's and on runs and at work with the ipod. Then my paper copy from paperback swap arrived and by then I was towards the end of the book and had to know what was happening so I read the paper copy at home.
As far as the audio version, I thought it was done pretty well. I found it fun that there were gunshots during the fight scenes where guns were involved. It was unexpected and made me smile. Ron McLarty is the narrator and I think he does an excellent job.