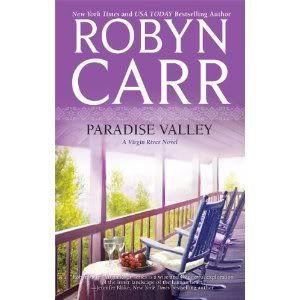 #7 Virgin River
Copyright: 2009
Publisher: Mira
Genre: Fiction/Romance
Pages: 416
Challenges: Off the shelf,
Author's
Website
My rating: 3/5
We are, of course, back in the town of Virgin River. A town I have grown to love and wish that it was real, because it seems real to me and I love the inhabitants and would love to visit..if not actually move..there.
I'll give a brief description about what goes on in this book but nothing much since you really do have to read this series in order. Instead of focusing on just one main couple, this book focuses on two couples and a possible third. It also focuses on another individual. One of the couples is Walt and Muriel. The two are apart for a bit and both realize what the relationship means to each other and what they need to do to make it work. The other couple is Cameron and Abby. Since Abby is pregnant with twins, it's not easy to hide her pregnancy any more. Cameron wants to be a father to the children and a husband to Abby, but Abby pushes him away..at first. This book also has us following Rick, a young Marine. I don't want to say more than that in regards to Rick.
As usual, there is more going on in Virgin River than just these couples and Rick, but those individuals are the most prominent and the ones this book revolves around.
While this is one of my favorite series, this was my least favorite book so far. I'm not sure exactly why it didn't grab me the way the others have or why I didn't like it as much, I just didn't. That's not to say it wasn't good, it was, just not as good as I wanted it to be.
I still think this is a series worth checking out, it's one of my top series from 2010 and I imagine it will be in 2011 too.