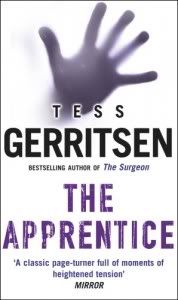 #2 Rizzoli and Isles
Copyright: 2003
Publisher: Ballantine
Genre: Mystery
Pages: audio
Challenges: Off the Shelf, Strong Heroine, Mystery and Suspense, Audio Book
Author's
Website
My rating: 3.5/5
Simple Description:
Jane Rizzoli is a homicide detective with the Boston PD. The past summer she caught The Surgeon and barely escaped with her life. Now it appears there is another serial killer on the loose. There seem to be too many similarities between these crime scene's and the ones the Surgeon left. However Rizzoli is the only one who see's it. That is, until the Surgeon escapes from jail.
Rizzoli knows the Surgeon will be coming after her. She is, after all, the only who escaped him and they are finding more and more clues that show he's infatuated with her.
My Thoughts:
I had read the first in the series awhile ago and even though I liked it I kept putting this series off. You all know how that is. Then the tv show came out last year and I watched it, and I liked it. I wondered if that would ruin it for me. I decided to finally read the next in the series and I'm really glad I did. While I knew the story because it was covered in the tv show, I still enjoyed it. Some things were different and since it's been awhile since the tv show it wasn't fresh in my mind.
I like Rizzoli, I think she's a great character. She has to be strong, or at least appear strong, in front of her co-workers. So you see the side of her where she doesn't want to take anybody's crap and she has something to prove. Yet, you also see the other side of her, her weak side. The side where you know she is scared.
I'll definitely be continuing with this series. I'm not sure how fast I'll get to them..but I'll get to them.
Audio Review
:
I did listen to the audio version of this book. Dennis Boutsikaris is the narrator for the audio version of The Apprentice and I thought she did a really good job. I think there's a very good chance I'll listen to more of this series via audio book.