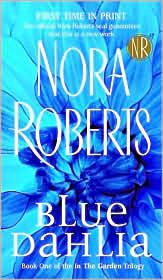 #1 In The Garden trilogy
Copyright: 2008
Publisher: Brilliance Audio
Genre: Fiction
Pages: audio
Challenges: 1st in a Series, Audio Book
Author's
Website
My rating: 3.5/5
Simple Description:
The story opens with Stella being a happily married woman with two kids. That is, until her husband is killed in a plane crash. With no family where she's at she decides to move back to the south where her father and step mom live. This way they can be closer to the boys. She is able to land a job as a nursery manager for Roz Harper. One of the stipulations is that she lives at the Harper Mansion for 6 months.
While living there she comes into close contact with the resident ghost, the Harper Bride. She butts heads with the landscape designer, Logan, but not for long. She loves her job, enjoys working with Roz. In fact, she enjoys her work with the nursery itself. But things start to get more complicated with Logan and she's not sure that's a good thing.
Haley, a distant relative of Roz's, shows up at the door with no job and pregnant. She's hoping Roz can give her a job so she can support herself and the baby until things get better.
My Thoughts:
I haven't read many Nora Roberts books yet, but this is my favorite so far! I just loved the characters and the southern setting. Stella is so organized that sometimes it can cause problems for her, yet as somebody who likes to be organized (although I'm lacking when compared to her) I liked this about her. Logan is so easy going and just let's things happen as they happen and I liked that about him.
I thought the three main women in the story were great. Roz, Stella, and Haley were all different yet they were all very strong female roles. I loved how they all got along and worked together too.
There are two more books in the trilogy, I haven't bothered reading what they are about but I can't wait to get to them. A friend suggested that another mutual friend and I would like this trilogy and boy was she right.
Audio Review:
Susie Breck is the narrator for Blue Dahlia and she does a really good job. She changes her voice, even for the kids, and adds what I think is the prefect amount of emotion into it. I hope she narrator all three of the books in this trilogy since I'll be listening to the other two on audio as well.