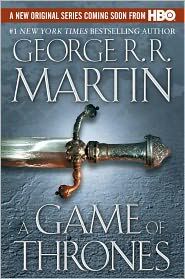 #1 Fire and Ice
Copyright: 1996
Publisher: Bantam
Genre: Fantasy
Pages: 807
Challenges: New Author, 1st in a Series, Buy 1 Book and Read it
Author's
Website
My rating: 4/5
This is a fantasy book, the first in a series. It's a huge fantasy book. It's over 800 pages of itty bitty script. This fantasy book took me 3 weeks to read. Yes, 3 weeks. You know what though? It was worth it.
I actually meant to read this book last year. When that didn't happen I told myself I would read it by March. March rolled around and I still didn't have a copy of it. I finally found a copy, every time I was at the bookstore and looked for it they were out. I was just in time too since the HBO series based on this book started a couple weeks ago. I actually watched the first episode before I finished the book because I couldn't wait for it.
It would be hard to do a really good description of this book, I often find this is true for fantasy books. There are so many characters and there's so much going on. This book is interesting in that you get the story from several different points of view. You end up getting different parts of the story but it works well in that you can piece together what is going on. Basically you have one king and several lords. Some of those lords, well, maybe just one, want to kill the king. Insert Eddard Stark of Winterfell. He becomes the kings Hand and gets in the way. His family gets in the way. Then his family tries to get some justice by capturing somebody in a powerful family and all hell, er, war breaks loose. In the meantime you get the story of a girl who would have been a princess if your father hadn't been killed and the current king named ruler. She is married off to a group of people who seem barbaric compared to how she is used to living. Then she becomes pregnant. This causes concern for the current king because the heir could go after the throne. See..lots of things going on that all seem connected in some way.
This book started out slow for me, but I think that's pretty typical when it comes to fantasy books. It's always a little slow learning the characters and the location, getting used to the names and their world. Once I got further into the book and got comfortable with everyone I started to love it. I was engrossed in the story and wanted to read more of it and wanted to know what was going on.
I have to admit that by week 3 I was tired of reading the book. I just wanted to be done. I do not do well with chunksters, I might love the story but if it takes this long I just want to move on. So I say this..but want you to know that while I was wanting to be finished, I was still enjoying the book and still wanted to read it. It's a bit of a catch-22.
I think fantasy lovers will enjoy this book. It's possible that non-fantasy lovers would too. If you aren't sure, try watching the series. So far the series follows the book pretty darn well. Even though I just finished the book, so it's fresh in my mind, I find that I'm enjoying the series a lot and I look forward to watching more. Sure, there are some differences, but not a lot. They are hitting all the important things so far and it's following the book pretty closely.