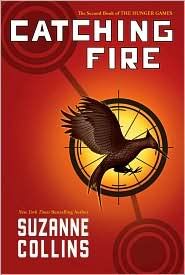 #2 Hunger Games
Copyright: 2009
Publisher: Scholastic
Genre: Young Adult
Pages: 391
Challenges: Off the shelf, Strong Heroine, Urban Fantasy, Young Adult
Author's Website
My rating: 4/5
I'm not going to do a normal review for this book because a lot of you have already read the book or if you plan to you do want to be spoiled. In fact, I'm not going to give any details about the book at all! No spoilers to be found here.
I noticed a co-worker reading The Hunger Games earlier this month and commented on it. So of course we started talking about it and the movie. Of course I then couldn't resist the urge to finally read the 2nd in the series. I actually started this one on Friday afternoon and finished it Sunday afternoon. Once I picked it up, I couldn't put it down. In fact, I finished my bookshelves and was all set to unpack all my books and organize them and instead I read this book.
I thought it was a good follow-up to the first one. I still love Katniss. My husband said he felt this was the best and worst in the series. The best because he thought the writing was good but the worst because he thought the author just pulled from the first book instead of coming up with a different story..I guess he felt she was cheating a bit. I didn't feel that way at all. I don't know if I thought this one was the best, but I loved it. I was engrossed from page one.