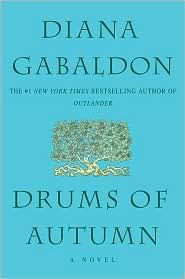 #4 Outlander
Genre: Fiction
Pages: audio
Challenges: Audio Book
Review
Author's Website
Once again I'm not going to do my typical review for this blog. The reason behind this is because this is the 4th in a series that needs to be read in order. I don't want to give anything away to those who haven't read it yet. I also don't think anybody would willingly pick this one up without reading the others first.
This book takes place mostly in the US. What made this one interesting for me was the addition of Bri and Roger. While they were in the last book, they each played a big role in this one and I liked that.
I can't say that anything crazy happened in this one..nothing major like we have had in previous novels. Yet, it moved along well for me and it kept my interest. I was a bit worried since some reviews on amazon said this was the slowest in the series for them so far. I thought the 2nd in the series was really slow. Therefore, I was happy with how much I did like it. Unfortunately, I read reviews for the next in the series and that one gets some really bad reviews. So..we'll see what I think of the next one when I get to it.
Audio Review:
Davina Porter is the narrator for this book, as she has been for previous books in the series. I think she does an excellent job! I look forward to listening to the rest of this series on audio..as long as she's the narrator.