It has finally happened. I FINALLY have bookcases in my library! In October Husband finally agreed that it was time to get them. We knew that they needed to be custom built and Husband gave me a set amount for the project. Lucky for me a friend's Dad does cabinetry as a hobby and I've seen his work and he was the first (and only) person I contacted. I met with him in November and explained my idea and gave him pictures. He came up with something and came out to the house to see the location and show me what he had in mind. I agreed with a lot of his suggestions and he got to work on them.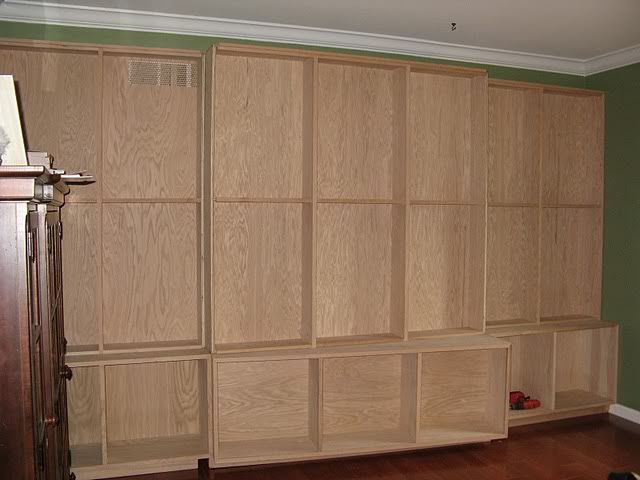 test run to see if they really did fit
In February the (almost) finished pieces arrived at my house. I was so freaking excited! The pieces were put in the library and a test fit was done. Some things needed to be fixed, but for the most part it was going to work.
Now the hard part (for me) started. I had to stain everything. The price to have the bookcases built came in just under the amount Husband agreed on for this project. It would have been another $500 for him to stain the wood. Therefore, it was determined that I would do that. What a project that ended up being.
The unfinished pieces were dropped off February 27th. I spent every weekend in March, Saturday and Sunday, in the garage staining the shelves and putting the polyurethane on them. The weekends where I was staining I was spending 6-7 hours each day working on these. Doing the poly didn't take as long, but it was still several hours. The thing is..while it took up most of my day it wasn't too bad. Do I want to do it again? No. Would I do it again? Yes. I like knowing that I did it. There's a feeling of accomplishment. I also listened to audio books almost the whole time. Now you know why I have finished so many audio books the last couple of months and not a lot of paper books.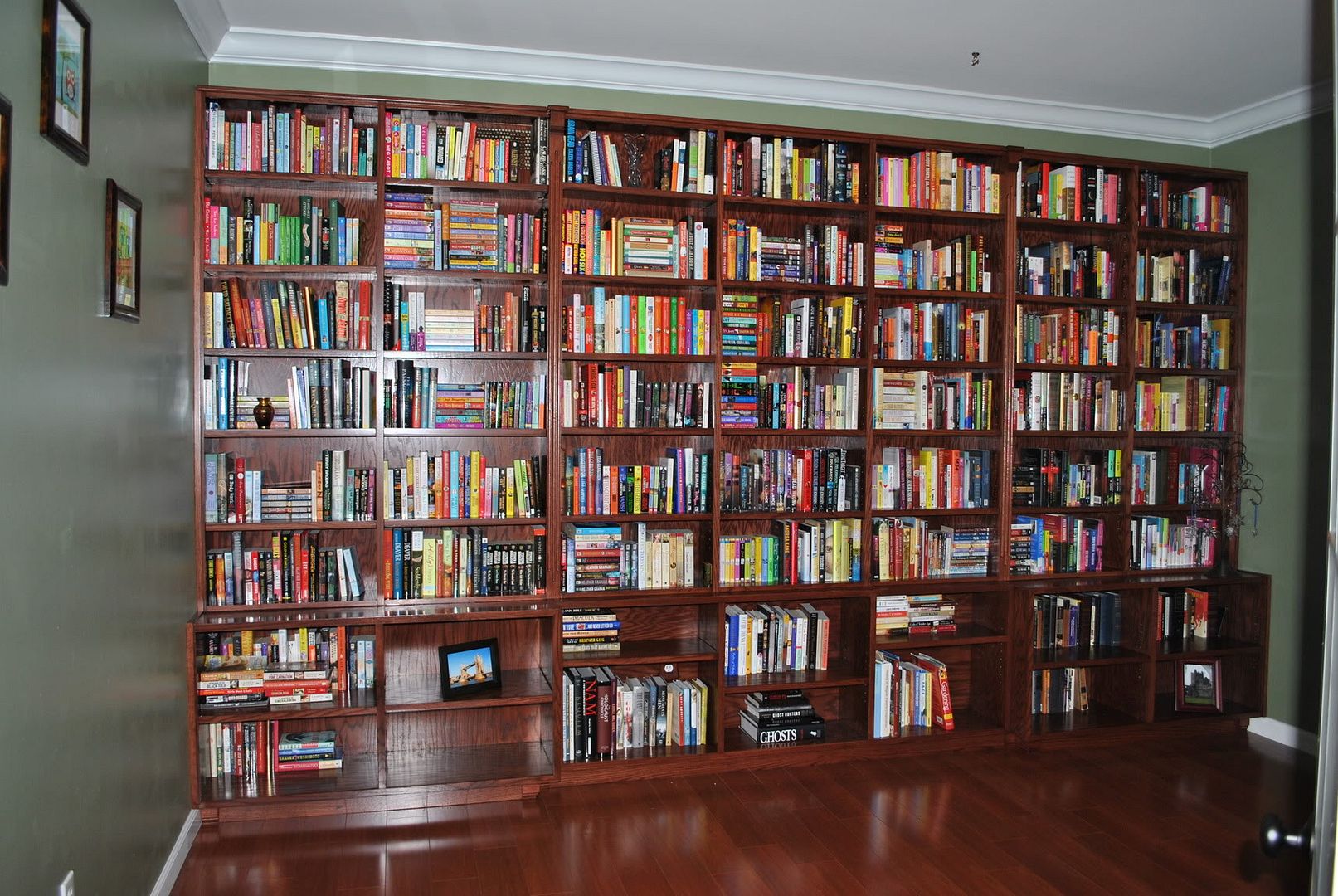 TA-DA!
Once the big pieces were stained and had the poly on them my friend's Dad came back out to install them. I had everything finished but the shelves themselves. There are something like 35 shelves and since I had to do both sides, they took a long time. Once he installed them I then got to work finishing the shelves so I could use them. I worked every night after work on this until they were done. I was finally finished and ready to start using them April 27th. I then spent my evenings after work taking my books out of their boxes and arranging them in alphabetical order by Author (just grouped all the A's together, the B's, etc). Then I took each letter and alphabetized them by author last name. I finally finished getting the books on the shelves on May 2nd. I did end up setting aside roughly 4 boxes of books to get rid of however I still have 10 boxes of books in the basement because they didn't fit on the shelves. I'm just not ready to part with them yet.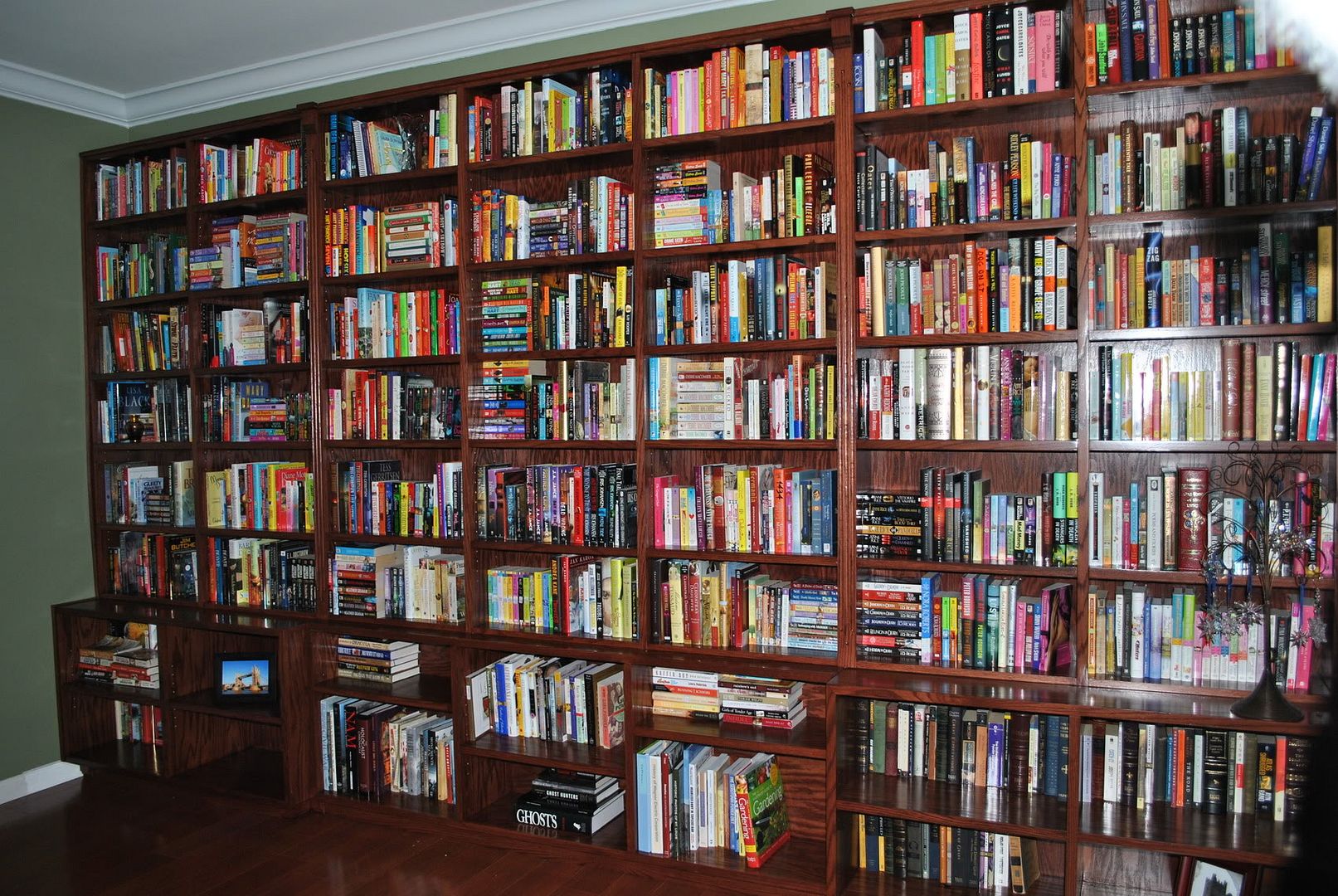 Oh..it feels so good to be done. The library looks so nice now. It's great to walk in that room and finally see it come to life. This is what I wanted since we bought the house.
Since you might want to know, I'll tell you. I did group most of the books together but I did separate some genre's. The young adult, non-fiction, and classics are by themselves. The rest are all together. The non-fiction is then organized not alphabetically but by type. War, true-crime, memoir, paranormal, etc. I also left room on almost every shelf for more books to be added, because I know there will be more.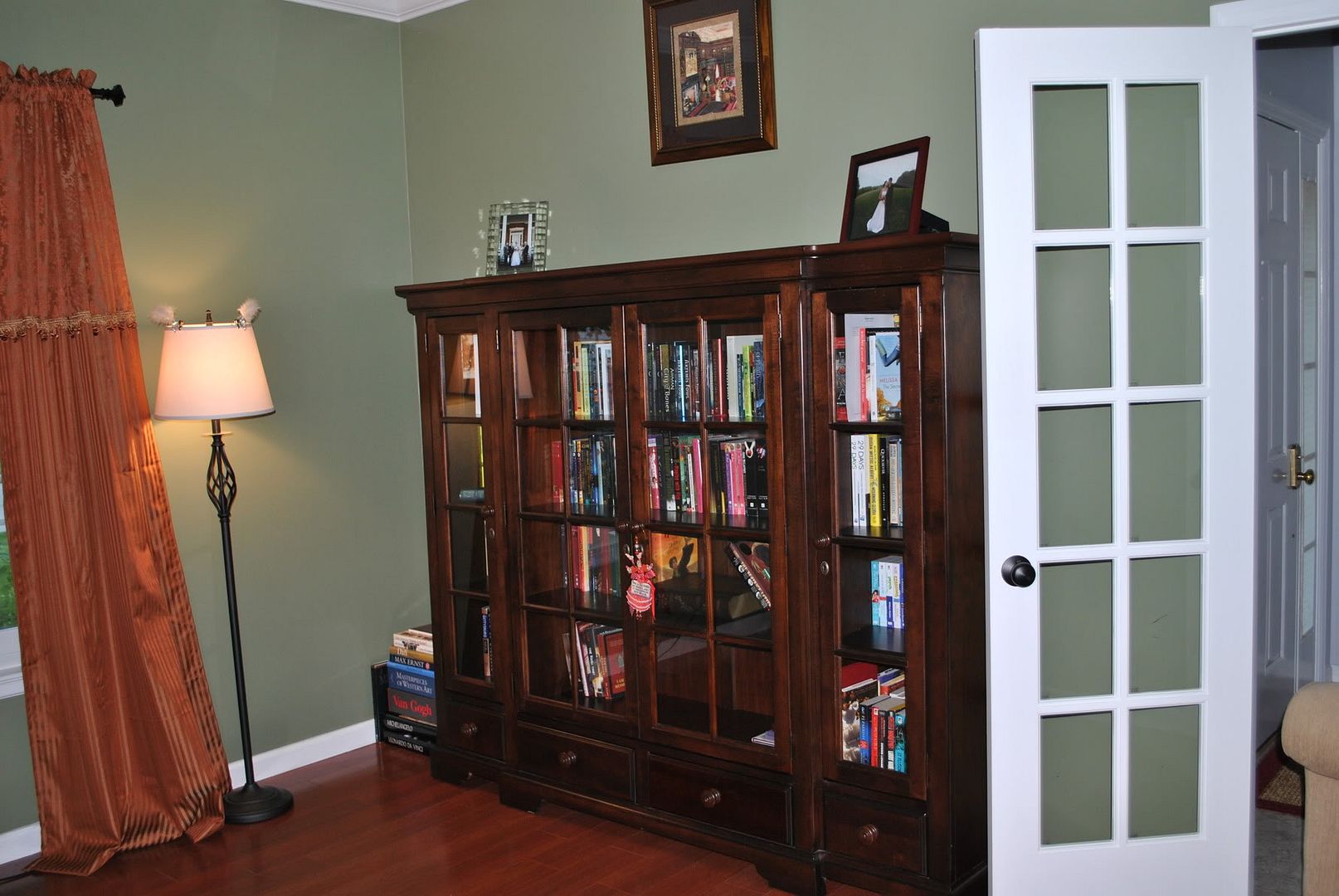 I have a library case, I've shown pictures of that before. The left side of that is for the books I'm attempting to read for challenges this year. The middle section are the young adult books, alphabetical by author last name, and the right side holds review books and books I've borrowed from others.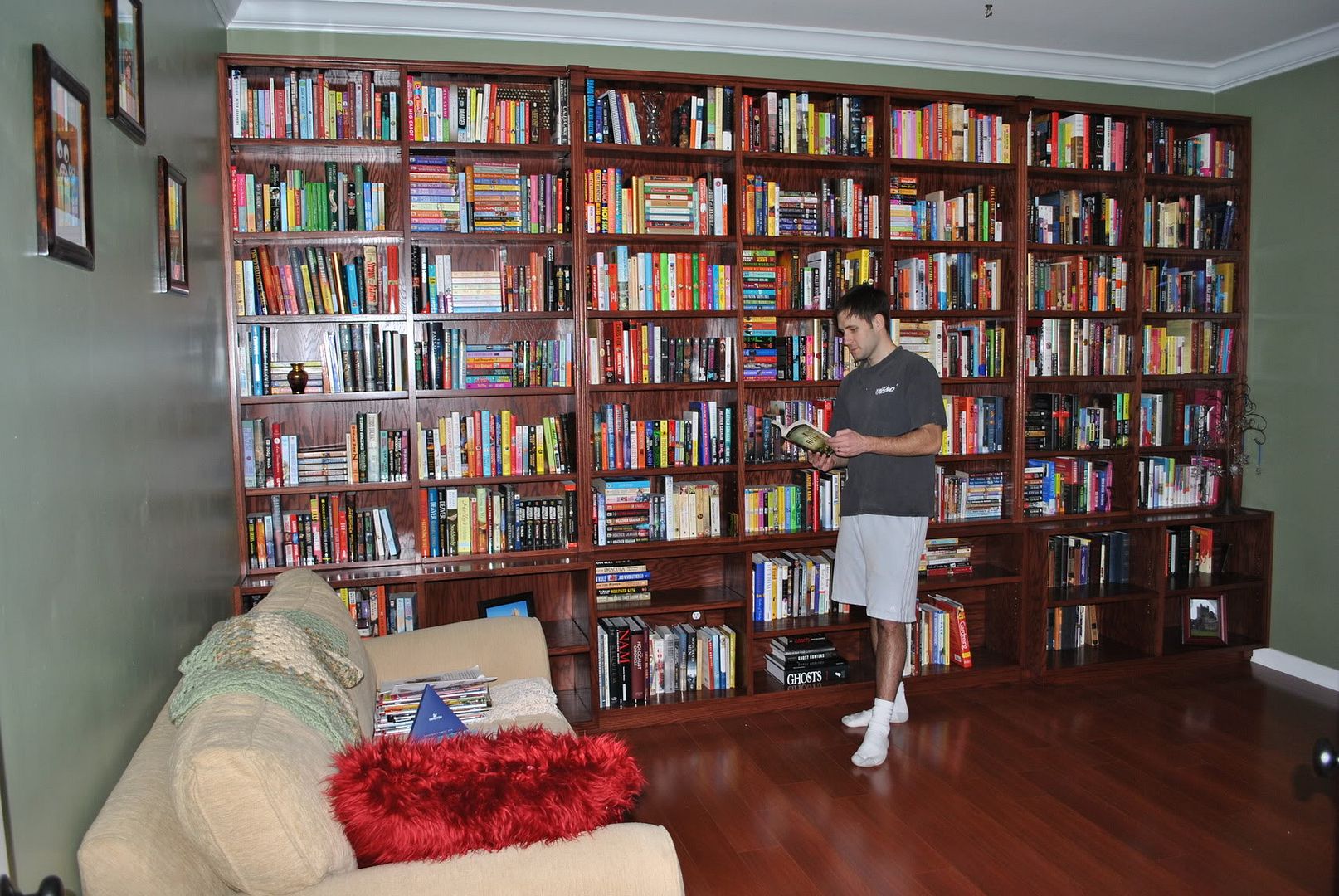 I was taking pictures of the room last night so I could share with people and Husband came over and decided to pose for me. haha!
Right now that's where the couch is but I'm not loving the location. I'm not loving the couch actually. I won't be able to do anything else to this room for awhile, we're re-doing a ton of landscaping. However I hope to get a rug, an over-sized chair or chaise lounge or something. We might try and hang a light instead of using a floor lamp. Who knows what we'll do! All I know for now is that I have my library and it puts a smile on my face every time I walk into it now.