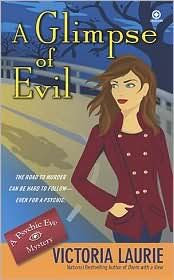 #8 Physic Eye
Copyright: 2010
Publisher: Obsidian
Genre: Mystery
Pages: 326
Challenges: off the Shelf, Series challenge
Author's
Website
My rating: 4/5
Simple Description:
Abby and Dutch have moved to San Antonio, Tx. They will both be working for the FBI, Dutch as the agent that he is and Abby has a civilian profiler. The first day in the office Abby whips through a lot of cold cases using her psychic abilities and Dutch is able to solve several. The other agents are still not sold on Abby's ability. She has a run-in with a specific agent and when she is asked who should investigate a case that involves finding a car in a drainage ditch, he's the one she suggests. Little did she know she would be tagging along. this innocent trip ends up being so much more though and Abby's life ends up in danger.
While going through the cold cases Abby feels there is a link between a couple of missing kid cases. Due to the incident that put her life in danger Abby is on leave from the FBI for now but before she leaves she grabs the kid's files. She ends up talking to her PI friend Candace and is then convinced to help Candice look into these.
Along with Abby's life being in danger more than once and the mystery and physic aspect of the story, there are also side stories that involve Candice's person life and Abby's personal life. That's a good thing though.
My Thoughts:
As any series reader is aware, there are some series that seem to fizzle by the time you get to book 8 and some that are still going strong. I'm so happy that this is a series that is still going strong. I love this series. Not only do I love the psychic aspect of it, I love the characters. Dutch and Abby are both such strong characters and they butt head sometimes. Yet, they love each other and end up being there for each other. Candace and Brice, two important secondary characters, are both great too. It doesn't hurt that I love the mystery aspect of the book too.
Definitely a series I recommend to others. This is one of my favorite series and I'm looking forward to book #9 coming out in July.