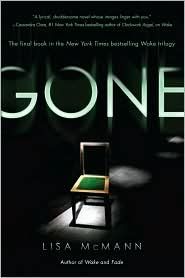 #3 Wake trilogy
Copyright: 2010
Publisher: Brilliance audio
Genre: young adult
Pages: audio
Challenges: young adult, audio book
Author's Website
My rating: 3/5
Simple Description:
This is the final book in the Wake Trilogy. In this one we are really getting a wrap-up for Janie. Her and Cabe have graduated from High School and she needs to decide what to do about her gift. Does she still help out the police and user her gift even though she knows the physical risks. Or does she decide not to do this anymore and save her sight and her hands, etc.
Things get even more confusing for Janie when she finds out who her father is. He ends up in the hospital in a coma. Even though Janie can't talk to him she finds his home and learns that her ability is hereditary. She also learns what the complications are if she decides to isolate herself and never use her gift.
What will she decide? What will happen to her father? What will happen between her and Cabe?
My Thoughts:
I thought this one was good but didn't like it as much as the others. I think I wanted Janie and Cabe to be involved in another investigation and have more of a mystery aspect to it. So I was a bit disappointed in that. However, I think it was a great ending to the trilogy because it does tie up some loose ends and comes to a conclusion in a way. If there had been a mystery in it I'm not sure the trilogy would have wrapped up as nicely.
All-in-all I think it's a good trilogy and think others will enjoy it. A word of warning: There is some cursing in the story (all three actually) and there is a physical relationship between Cabe and Janie. While I don't have kids yet I feel this is not something that would keep me from letting my kids read this. I know these can be a concern for some though, so you've been notified.
Audio Review:
Ellen Grafton was the narrator for this audio version. She has actually narrated all three of the books in this trilogy and I think she did an excellent job. She included just enough emotion and changed her voice for the different characters to make it a great experience.