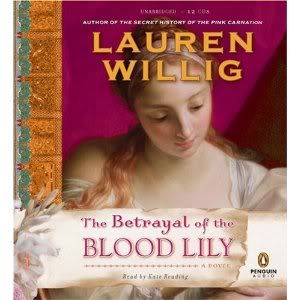 #6 Pink Carnation
Copyright: 2010 (audio)
Publisher: Penguin (audio)
Genre: Fiction
Pages: audio
Challenges: Strong Heroine, Audio book
Author's
Website
My rating: 2/5
Simple Description:
Penelope is hastily married to Lord Frederick Stains once it is found out that the two were in a room together..with no one else. It doesn't matter that nothing happened, Penelope was compromised and Freddy did the "right" thing by marrying her. It is definitely not a match made out of love, the two don't really like each other. The end up going to India for Freddy's job right after the wedding. The hope is that with them out of society in London, their fast marriage will quickly be passed over for other gossip.
Penelope knows there is another spy on the loose and she knows they are after it. She suspects almost everyone, including Captain Alex Reid. Unfortunately, Pen also finds herself attracted to Captain Reid. There's just something about him.
My Thoughts:
I thought this book was good, but not great. It's actually my least favorite in the series so far. I was disappointed at first because I didn't really like the beginning. I didn't really start to enjoy the story until about half-way through the book. Then it seemed to get interesting and I warmed up a bit to the characters. This is book 6, I've read 7 so far, so it's bound to happen that there is one in a series I won't really like.
I will definitely be continuing with the series at this point. I've thoroughly enjoyed the other books I've read and have high hopes I'll enjoy the rest (so far there are 9 books). I will still recommend this series to others as well.
Audio Review:
Hmm..oddly enough on Amazon the narrator for the Audio CD is not listed, it usually is. I believe Kate Reading might be the narrator. Regardless...the narrator did a great job. There was no problem telling which character was talking or was telling the story.