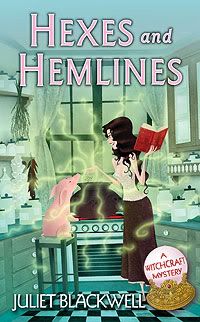 #3 Witchcraft
Copyright: 2011
Publisher: Signet
Genre: Mystery
Pages: 336
Challenges: Cozy Mystery Challenge
Author's
Websit
e
My rating: 3.5
Simple Description:
Lily's friend at the police station asks her to visit a crime scene with him because he wants her opinion. When she gets there she see's the dead body on the table, under a ladder. The superstitions don't stop there, add in a black cat, a horse shoe over the door, a sparrow and others and Lily knows something out of the ordinary is going on.
Lily isn't officially part of the investigation but when her friend's daughter is connected to the murdered man and her husband is mixed up in it, she feels it's a threat against her and her friends that she can't ignore. Things get worse when she realizes other witches, very powerful witches, are involved.
My Thoughts:
I thought this was a great follow-up to the other two, a great continuation of the series. I really like Lily, how can you not love her? She's always felt like an outcast and she's finally trying to stay put in one place and have friends and be normal, but it seems the world has other things planned out for her.
In this one you see more of Aidan and Sailor, another witch and a physic. You also learn more about Lily's past. All this just makes the book better, in my opinion.
You all know me, I like the paranormal and this book is right up my alley. I thoroughly enjoyed it and encourage you to check out the series if you haven't already.
Thanks to the Publisher for providing this book for review.