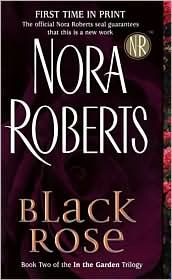 #2 In the garden Trilogy
Copyright: 2010 (audio)
Publisher: Brilliance Audio
Genre: fiction
Pages: audio
Challenges: audio
Author's
Website
My rating: 3.5/5
Simple Description
:
The second book in the series features Roz Harper as the character to watch. She's strong and independent and has sworn off men after she found out what a sleaze her ex-husband was and divorced him. She's in for a surprise though, when Mitch, the man she hired to research her family and figure out who the ghost is, goes after her. As they spend more time together she realizes that she might be falling in love with him.
Unfortunately her ex-husband is back in town and causing a lot of trouble for her. She has to deal with those and the ghost who isn't happy she might love Mitch.
My Thoughts:
I enjoyed this book as much as I enjoyed the first in the series, Blue Dahlia. I really like Roz's character and it was enjoyable to see her strengths and weaknesses. It was fun to see how she got back at her ex-husband. Of course, I'm a girl, so I enjoy that she ended up falling head over heels for Mitch too. I have one left in the trilogy and I can't wait to get to it.
Audio Review:
Susie Breck is the narrator for this book and she does a fantastic job. While she changes her voice, it's not always as big a change as other narrators do, but it's still good. She puts in a bit of southern charm when she reads the book and makes it an enjoyable way to "read" the book.