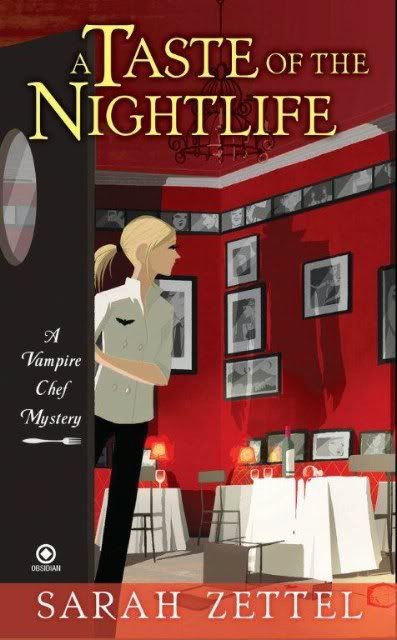 #1 Vampire Chef Mystery
Copyright: 2011
Publisher: Obsidian
Genre: mystery
Pages: 297
Challenges: New Author, 1st in a series, Cozy mystery challenge
Author's
Website
My rating: 4/5
Simple Description:
Charlotte Cain is a chef at her own restaurant, Nightlife. Her brother is a vampire and he is co-owner and works out on the floor while she handles the kitchen. She has created a menu that both the humans and vampires can enjoy. Now they just need to make sure they stay in business long enough to start making some money. Things are going well until there is an altercation in the dining room one night. The night that a famous vampire food critic happens to be dining there. The altercation is between a vampire and a couple of witches. As if that isn't bad enough, one of the witches is found in her restaurant the next day. Dead. His blood drained.
Charlotte was going to let the police Paranormal squad handle things, but then it looks like her vampire brother might be involved somehow. She wants to figure out what is going on and possibly keep him out of trouble. With the help of a famous witch and a famous vampire, she just might do that..if she isn't killed first.
My Thoughts:
What a fantastic start to a new series! You know me, I like my vampires and witches. When I had the chance to get a review copy of this book there was no way I could pass on it. I loved Charlotte. She was fun. She had spunk. Sure, she had her problems but she's a great character.
I thought the author did a good job introducing us to what life is like in her book..where vampires are out in the open and there are witches, without having to sit down and outline it all for us. It was easy to follow and felt natural.
I thought the story moved along pretty well and it kept my interest. It felt like it took me forever to finish this book but that had nothing to do with the book but rather my busy life. I definitely recommend this one to cozy fans who enjoy urban fantasy too. Just one note, there is some cursing in this story. I thought it went well with the character and it seemed natural. It didn't bother me at all. I only mention it because normally you don't see this with cozies and I know some don't like it, so wanted to make sure you were aware.
Thanks to the publisher for providing this book for review.