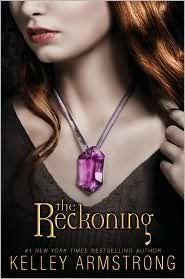 #3 Darkest Power trilogy
Copyright: 2010
Publisher: Harper Teen
Genre: YA
Pages: audio
Challenges: urban fantasy challenge, Paranormal/Fantasy Romance, Young Adult, Audio Book
Author's
Website
My rating: 2/5
Simple Description:
This is the third and final book in the trilogy. There are a group of kids who have special powers and they are on the run. They are running from the company who gave them these powers and, as it turns out, now want to kill them. They meet up with a man who they think is on their side and they get to the safe house. Except as the kids stay longer they learn that maybe they aren't as safe as they think they are.
My Thoughts:
I didn't think this was the best book. Here's the thing, I think that all three books could have been made into one. I feel like this is one of those cases where the books were split into three in order to make more revenue. It felt like, even though a lot happened, enough didn't happen to make this a satisfying book. I found myself listening to this and not really carrying about what happened.
Audio Review:
The audio version is read by Cassandra Norris. While I think she did well, for the most part, there are some issues I had with it. I believe I voiced these opinions with the last review too. I realize these are teenagers but Norris put in too much sarcasm in her voice. To the point that I found it annoying.