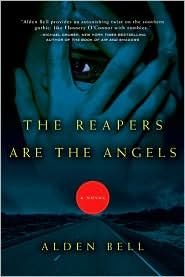 Copyright: 2010
Publisher: Henry Hold and Company
Genre: Fiction
Pages: 225
Challenges: Off the Shelf, Strong Heroine, New Author
Author's
Website
My rating: 4/5
"But there are secrets that lurk in the mind, and she doesn't want any of them sneaking up on her. Sometimes it pays to take a deep look inside even if you get queasy gazing into those dark corners." pg 10-11
Simple Description:
15 year old Temple hasn't known any other world. She was born into a world unlike that we know today. The world has been overrun by "meatskins". It's kill or be killed in this world. Temple does end up at a safe house. She knows she won't stay long, she's not comfortable unless she is out on her own roaming this once great nation. Before she is at the safe house for too long she ends up killing a man. She escapes but she knows his brother is going to track her down. While running from him she also sets out to take a challenged man to his family and escape her own demons.
My Thoughts:
I had bought this book for Husband because he seems to like zombie books and, as he calls them, "end of the world" books. He kept telling me to read this one and I finally relented. I'm actually pleasantly surprised by how well I liked this one.
It does take awhile to get into this book. The writing is different, the punctuation is different. There are no quotes for when somebody speaks, it's just typed. So getting used to that can take some time.
However I thought the story was fantastic. You can't help rooting for Temple. Sure, she's done a lot of things in life most of us couldn't imagine doing, but she grew up in a different world. You want her to survive, you want her to live and keep going.
I definitely recommend this book to those of you who like this type of book. Even if you don't necessarily read these types of books, if it sounds interesting, check it out online or at the bookstore, it's worth it.