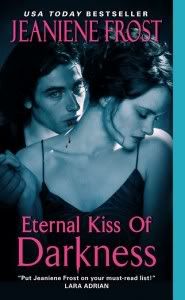 #2 Night Huntress World
Copyright: 2010
Publisher: Avon
Genre: Mystery
Pages: audio
Challenges: Strong Heroine, Urban Fantasy, Paranormal/fantasy reading challenge, audio book challenge
This particular installment allows us to get closer to Mencheres. Mencheres is a master vampire who is pretty close to being done with life. Then he meets Kira Graceling. She's a human and a private investigator. She happens to come across Mencheres being tortured by some ghouls and tries to save him, endangering her own life. Mencheres rescues her and saves her, only to fall in love with her. He tries to let her go back to her life, knowing that things are coming to an end for him. However things quickly make a turn for the worse and Mencheres is forced to make Kira into a vampire. Together they set out to save Mencheres from the one vampire who wants him dead.
Ok, yeah, so it's another vampire book. By now you know I love my vampire books. Jeaniene Frost has created a wonderful world. I'm really enjoying this spin-off series. I love that we learn more about some of the secondary characters in the Night Huntress series. I think it's going to make the Night Huntress books that much more interesting since we'll have background on more of the characters. Of course, I love that Bones and Cat also make an appearance in this book.
I suppose I should touch on the story itself huh? I enjoyed the story and found that it kept my interest. I think Kira is a very strong character and I hope she shows up in more books. I did listen to the audio version of this book and the narrator did a wonderful job. And that's all I've got. Another short review, but I'll be caught up soon and hopefully things settle down and I'll have time for things to go back to normal soon.