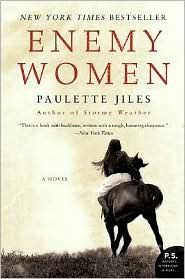 This is week four of the Enemy Women by Paulette Jiles read-a-long. Please check outweek 1, week 2, and week 3 discussions. Up to this point, you would have read through chapter 24.
This week's discussion is for ch. 25 through the end of the book. We hope that you've enjoyed the discussions so far and have commented or answered the questions.
A lot of the latter parts of the book focus on Adair's time alone in the woods. She sits and listens to the animals and listens for soldiers and signs of life. Do you find her reactions to her surroundings as a lone young woman in the woods believable?
I didn't pick up on the stories between the animals either. I think this could be I wasn't paying too much attention at this point. I've been just kinda going through the motions and reading the book to get done with it and see how it ends. haha! I do agree that she seems very immature for being 18 during that time period. I suppose some of her actions I can blame on her illness but, well, maybe I just don't want to.
How did you feel about Major Neumann not making another appearance until the second-to-last chapter, especially considering that some of us are finding his story more interesting than Adair's?
I was very disappointed. I definitely like Major Neumann's story more than Adair's and like him as a character better. So to not hear his story for awhile was very disappointing
What are your final impressions of the book?
I'm glad I finished the book but I didn't really like the story. I didn't much care for Adair's character. I felt she was pretty immature and full of herself. I also find a lot of the events unbelievable. My favorite part of the book were the tidbits at the beginning of each chapter that were took from real accounts, etc. Those were by far the most interesting. I also liked Major Neumann's story a lot more than Adair's so the fact that we didn't get a whole lot of him was also disappointing. I can't say I hated the book, I think the concept was interesting, I just don't think it was delivered very well.