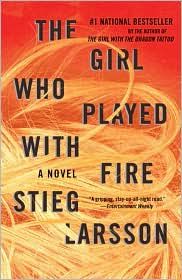 #2 Millennium Trilogy
Publisher: Random House Audio
Genre: Mystery
Pages: audio
Challenges: mystery and suspense
Author's
Website
My rating: 4/5
Simple Description:
Lisbeth is back in town after traveling for awhile since the last saw her. She is still avoiding Mikael Blomkvist. She has money and doesn't need work, but she isn't sure what to do with her time. She tries to start living a normal life, she buys a new place to live and furnishes it, she reconnects with one of her friends.
Then she decides to check out Mikael's computer and she reads about the newest project Millennium is taking on. They will be publishing a book and devoting a magazine edition to sex trafficking. This peaks her interest. It gets her interest enough that she decides to visit the author of the book.
Unfortunately on the night she visits the author and his fiancé, they are murdered after she leaves. The murder weapon is found in the stairwell and they have her prints on it. Her prints are in their apartment. Then her guardian is found murdered and she's the prime suspect.
Lisbeth goes into hiding, and Mikael sets out to figure out who the real murder is. Lisbeth sets out to take matters into her own hands too.
My Thoughts:
I thought this was a fantastic follow-up to The Girl with the Dragon Tattoo. Lisbeth is such an interesting character. She's smart, she's badass, and she's messed up too. I can't help but cheer her on the entire time. I think we all need a Lisbeth Salander in our lives.
I felt the story moved along very well and it kept my interest the whole time. While we don't know everything, we know most of it the entire time but that's ok. The interesting part is following Lisbeth and Mikael on their journey to put everything together.
This one does leave you with a cliff hanger, something we all know I love to hate. I would be lying if I said I did let out a long series of cuss words in the car when the story ended. I've already reserved my place for the audio book of the next one and I'm anxious to get it.
Audio Review:
Simon Vance is the narrator for this book and he does a fantastic job. He's very easy to listen to and keeps the story moving. While I sometimes had trouble keeping track of all the names and players in this story, I don't really think that's due to the audio version. I think it's just the large number of characters and the different names. Which brings up another point, I do like listening to these on audio because Vance pronounces everything correctly, or at least I assume he is.