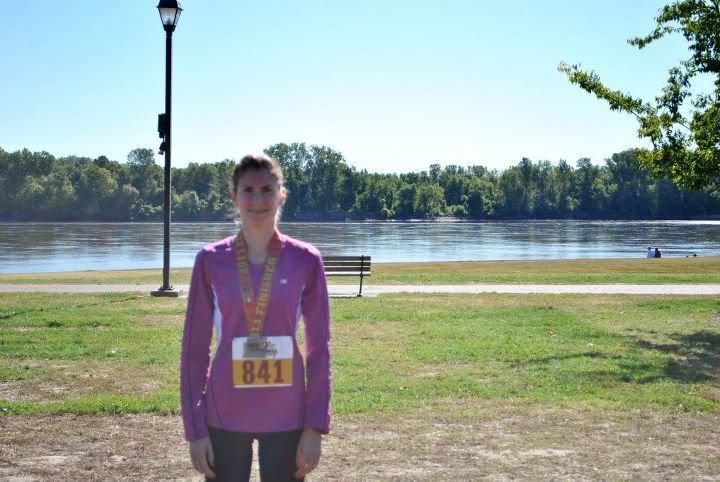 After the race and wearing the finishers medal
I haven't done a non-book related post on Friday in a really long time. I know you are all heart broken, right? I thought I would try to get back in the groove by sharing my latest success with my second attempt at a half marathon.
Many of you might remember that I attempted my first half marathon this past April. I was pumped and excited about it and ended up being very disapointed with my performance. We had an unusually hot day and the temps just got to me and I ended up having to walk several times. My goal had been 2hrs and I finished it in 2:18.
I felt I needed to prove to myself I could finish a half so I set out to run a fall half marathon.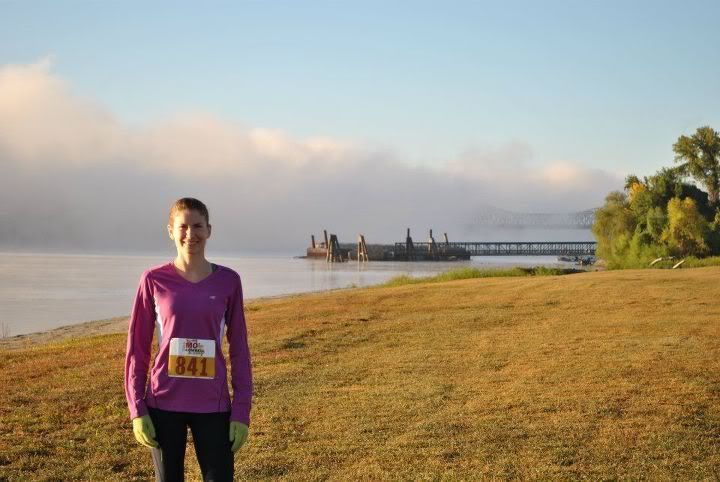 Before the race
 I knew the Rock N Roll Marathon was the 23rd of October so I started to loosly train for that even though I hadn't signed up for it. Then another half marathon was announced in my area, the MO' Cowbell. It happened to be a couple weeks earlier and a heck of a lot cheaper, so I immediatly signed up for it.
That is one reason I haven't been as active on my blogs, I've been in full training mode since the beginning of July. I basically work out 7 days a week and it's eating in to my reading time. Plus, I'm barely sleeping for some reason, so I'm basically walking around in a fog because I'm exhausted once evening hits.
So the half...it was last weekend. I had trained for it knowing I wanted to finish it in 2 hours. It was supposed to be a mostly flat course so it should be possible since I train with hills. Then I recently ended up having some health concerns and knew I couldn't push myself. I went into the half knowing that I still wanted to do 2 hours but not set on getting it. Instead I had to pay attention to my heart rate and make sure it didn't reach 170. So that meant any little incline would make the HR go up and I would have to back off.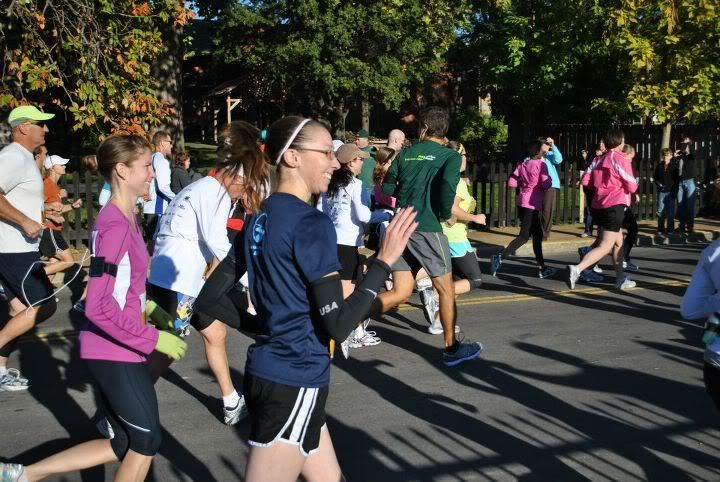 Start off the race, the girl in blue with the black arm warmers is
who I ran with for the first 6 miles.
Well...I started off running with a girl I met earlier in the summer doing some speedwork and then doing a series of trail runs. She's a tad faster than me on low mileage runs but we had the same pace setting out for the half. I stuck with her for 6 miles, then slowed down and walked while getting water at the 6 mile water station. It was either that or dump water down the front of me. Plus it was a chance to get the HR down a bit. She got a bit ahead of me but I was still close until mile 9. After mile 9 we hit hills and I had to take it easy and lost sight of her. While I constantly checked my garmin because I had to watch my heart rate, I didn't pay much attention to the miles or pace. I felt good the whole time. I never hit the "wall". I felt stronger and better than I did for the half in April.
When the finish line came in sight I increased my pace a bit and as I got closer I ended up going out at a pretty good clip. I knew the heart rate would go up but also knew it wouldn't be for very long.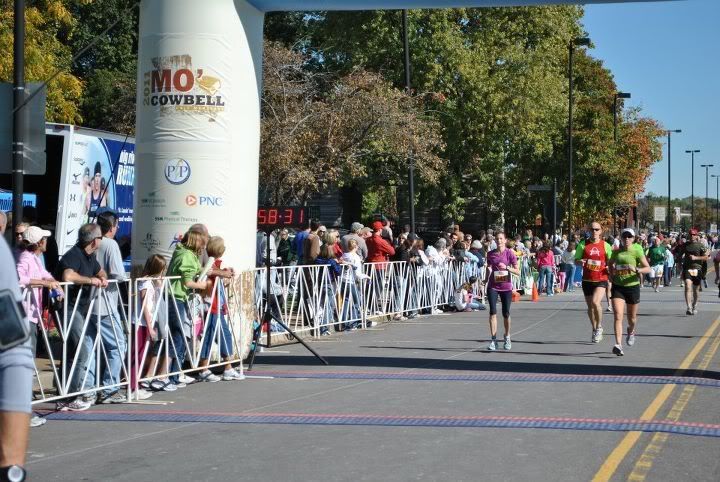 The finish at last! (don't like how it looks like I'm walking though)
 I managed to come in with an overall-all time of 1:58:11, my pace was 9:01. I was extremly happy that I not only ran the entire race, but even having to take the hills easy and not push the pace on the flat area I was able to hit my time goal. I'm definitely gotten bit by the bug, already planning to run the race next year (as long as they offer it again).