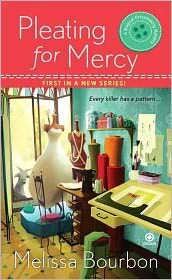 #1 Magical Dressmaking mystery
Copyright: 2011
Publisher: Signet
Genre: Mystery (cozy)
Pages: 320
Challenges: New author, Mystery and suspense,
Author's
Website
My rating: 4/5
Simple Description:
Harlow Cassidy has recently moved back to her hometown of Bliss, OK. Her Grandmother passed away and left her the family house, which Harlow has turned into a dressmaking boutique on the first floor.
Business just opened and is off to a slow start until an old friend shows up and needs a wedding dress and 3 bridesmaid dresses, in only a couple of weeks. As if that wasn't going to keep Harlow busy enough, one of the bridesmaids is found dead in her front yard. The likely suspect appears to be the groom. Harlow's friend is distrought and asks her to look into it a bit.
Harlow does really go out of her way to gather information, luckily she doesn't need to. As people show up at her boutique for fittings she's able to get some of the "gossip" from them and starts to piece things together. One thing that makes this a bit tricky is that the groom is from the wealthiest family in the area.
My Thoughts:
This is the first time I've read anything by this author (first time publishing under this name but she does write under the name Misa Ramirez). You know me, I love a good cozy. What attracted me to this book was the "magical" aspect of it. I love me some paranormal. The Cassidy women all have a gift, it's different for everyone, but they all have one. I was intrigued by this and happy that it worked really well for the story. It wasn't over powering, but it was there and made it fun.
Another thing I enjoyed about this story is that Harlow didn't stop her business and go out asking questions and investigating. She was smart and asked those who came into her shop. While she did attend a couple of events in hopes of getting some clues, it wasn't out of the ordinary or odd for her to do so.
Harlow is also a wonderful character. I really liked her and she wasn't the typical amature detective who got herself into trouble and was annoyingly nosy. I also really liked her family and some of the other characters as well.
This book was a wonderful start to the series, if the 2nd book is just as good I can see it quickly becoming a favorite series of mine.
Thanks to the publisher for providing this book for review.