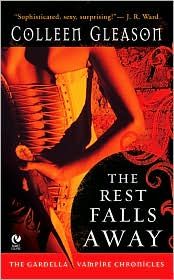 #1 Gardella Vampire Chronicles
Copyright: 2007
Publisher: Signet
Genre: Fiction/Urban Fantasy
Pages: 368
Challenges: Off the shelf, New Author, Urban Fantasy, Paranormal/Fantasy romance
Author's Website
My rating: 4/5
Simple Description
The Gardella family have been Venators (vampire Hunters) for generations. Victoria is about to have her debut when she realizes she is next in line to be a Venator. Her aunt is the only other living family member who was chosen and accepted the challenge. She coaches Victoria and gives her some of the background on vampires. Victoria agree's to accept the family legacy and is soon killing vampires whenever she comes across them.
Things get rough when she falls in love with Philip, the marquess of Rockley. How is she going to hunt vampires at night and be expected to stay at home safe and sound with her husband?
It's also bad that Lilith, queen of the vampires, is set on getting a book that will make her even more powerful than she is. Victoria needs to somehow get her hands on this book before Lilith can. Of course, Lilith also wants to destroy Victoria and all other Venators and sends her most powerful vampires after them.
My Thoughts
This book is a vampire novel that takes place in Regency England…and it works. I like historical fiction and I like my vampire/urban fantasy books. I wasn't sure how I would like the two of them together in the same story. Gleason really makes this story work. I enjoyed reading about the issues Victoria had trying to be a female vampire hunter during a time period when she was expected to be home and submissive.
I thought Victoria was a good character, she had a lot of spunk and I liked her determination. I also really enjoyed her maid, what a great secondary character.
Overall this book was a lot of fun. I think fans of urban fantasy will enjoy this one. There are several books in this series and I look forward to seeing the characters grow and seeing what kind of trouble they get in to.