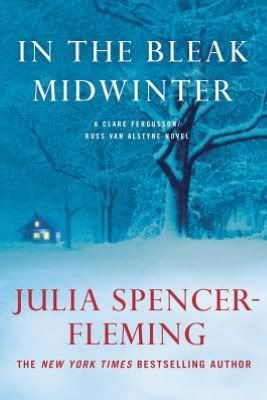 #1 Reverand Clare Fergusson/Russ Van Alstyne
Copyright: 204
Publisher: Sound Library
Genre: Mystery
Pages: audio
Author's
Website
My rating: 4/5
Simple Description:
Clare Fergusson is a new preacher in town and unfortunatly she meets the local Sheriff, Russ Van Alstyne, under less than satisfactory conditions. Clare has found an infant boy on the doorstep to the church. The baby came with a note that included his name and who the parents should be. Clare thinks this shouldn't be a problem until Russ points out that they need to find the mother to figure out if she willingly gave up the baby, etc.
At one point Clare gets Russ to agree to take her on patrol with him on a Friday night so she can really learn her new town. It's a small town and she doesn't think there's much crime, Russ says otherwise. On this patrol they happen to find a dead girl. During the autopsy they learn that she recently gave birth. The mother has been found, now to figure out who the father is and who killed the mother.
My Thoughts:
I loved this book. What a great start to a new series (new for me, there are several books already published in this series). I was hesitant to try this series because one of the main characters is a Reverand. I don't read Christian lit. Luckily I read this one with a couple of others and one friend started it before me and said that it wasn't an issue. Boy was she right. Clare is an excellent character and her job/calling in now way turned me off. In fact, I'll go so far as to say that Clare and Russ have been added to my small list of favorite mystery solving duo's. I loved both characters and love how they interact with each other.
They mystery aspect of the novel was great too. You didn't have a lot to go on so it was hard to try and figure out who the father was and who the killer was. The story itself kept my interest and kept me guessing the whole time.
Definitly think a lot of you will enjoy this series, I recommend giving it a shot if you haven't already.
Audio Review:
I thought the audio version for this book was excellent. Suzanne Toren is the narrator and she does an excellent job. You have no trouble following which character is speaking and the story flows smoothly.