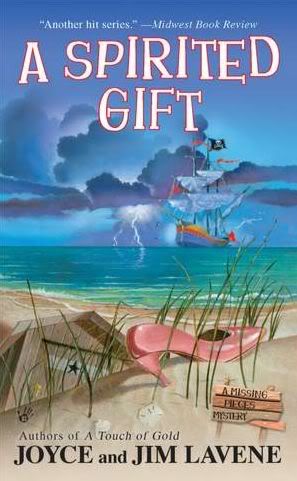 #3 Missing Pieces
Copyright: 2011
Publisher: Berkley Prime Crime
Genre: mystery
Pages: 304
Author's
Website
My rating: 3/5
Simple Description:
Dae O'Donnell has gathered all the neighboring town majors at The Blue Whale in for the first major's conference for their part of the country. Unfortunatly during this conference a hurrican hits and everyone is stranded. Once the worst of the storm is over Dae realizes that one of the majors is missing. Soon she finds the body and the police suspect murder.
To make matters worse, when Dae was trying to contact her Mom earlier in the day she ended up contacted another dead relative, Rafe Masterson. Dae didn't even realize she was related this notorious pirate from years past. Rafe won't refuses to leave her alone until she helps clear his name. He swears he didn't commit the crimes that he was hanged for. In turn, he agrees to try and help her figure out who killed the dead major.
My Thoughts:
I thought this was a pretty good book for the series. As the third book in the series it has stayed pretty true to the story line, including some extra story lines regarding Dae's personal life that have been touched on in the other two books.
I thought the addition of Rafe Masterson's ghost was fun, it's a rather interesting character. I thought adding him in this gave the story line a good twist and made the mystery aspect a bit more fun as now Dae is trying to work on two mysteries and deal with an annoying spirit.
Overall I feel that if you enjoyed the other two, you'll enjoy this one as well. I can't say this is a favorite series of mine but I do enjoy it and plan to continue with it. It's one that I think others who like a bit of paranormal will enjoy.
Thanks to the publisher for providing this book for review.