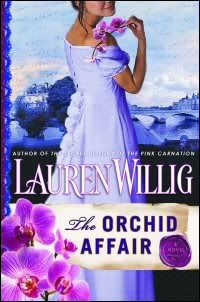 #8 Pink Carnation
Copyright: 2011
Publisher: NAL Trade
Genre: fiction
Pages: audio
Author's
Website
My rating: 2.5/5
Simple Description:
Laura Grey is tired of being a governess and joins the Selwick Spy School. Unfortunatly her first mission upon graduating is to be a governess. At least this time she has other motives. She heads to Napoleonic France and becomes part of the household for deputy minister of police Andre Jaouen. She must find out if he is trying to thrwart a plot to put somebody with royal blood back on the throne.
Unfortunately her cover is blown when they happen to meet somebody that knows her from her previous life. However it's not so bad since she learns the true nature of what Jaouen is up to.
Soon she finds herself fleeing France and in charge of his family and their safety.
My Thoughts:
I wasn't feeling this one. It didn't have the same feel as the previous novels have had for me. Now, let me say that I've had a lot on my mind while listening to this one and so I know my mind wondered a lot. That could be why I didn't like it as much. However could it also be that it was easier to wonder because I wasn't as invested in the story? Either way I still like the series enough that I plan to continue with it. Hopefully this one was just a fluke and I like the next one a lot better.