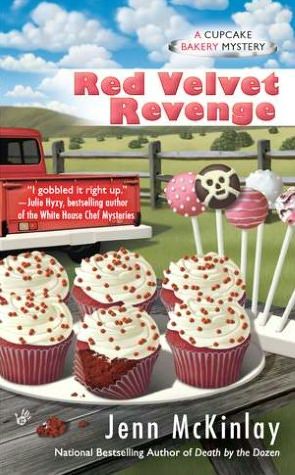 #4 Cupcake Mystery
Copyright: 2012
Publisher: Berkley
Genre: Mystery (cozy)
Pages: 304
My rating: 4/5
Simple Description:
It's summer time and with the heat so bad Melanie and Angie aren't getting any business at their cupcake shop. Things change for them when Melanie agrees to use a food van and they are invited to Juniper Pass for the annual rodeo, to be one of the food vendors.
Unfortunately, along with selling cupcakes Melanie, Angie, and friends are also caught up in a murder. They have a run in with the Ty, a famous rider in the rodeo circuit. He is then found dead and Mel and Angie are suspects.
Along with this Melanie is dealing with Angie and Tate and their attraction for each other, although neither will make a movie and tell the other.
My Thoughts:
I know I know, I say this every time I review a book in this series but it's true...this is one of my favorite series. So far I have not been disappointed at all. Each book continues to give me exactly what I want: a good story, humor, and great characters.
As with some other cozy mysteries that I love, it's not always about the mystery that keeps me coming back. It's the characters. I just love them and the way they interact with each other. You know the author does a good job when you wish they were real and lived in your town so you could be friends with them.
Of course the story and the mystery itself are good. Don't get me wrong there. I did enjoy that just as much.