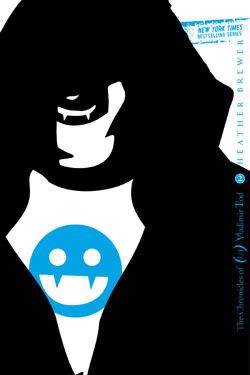 #2 The Chronicles of Vladimir Todd
Copyright: 2009
Publisher: Speak
Genre: young adult
Pages: 288
Challenges: young adult challenge
Author's
Website
My rating: 4/5
Simple Description:
School is getting ready to start for Vlad. He will be a freshman in highschool this year, but assumes things will be the same as before. He still has his best friend Harry and there are still two bullies that want to beat him up every chance they get. He still likes Meredith but can't bring himself to even talk to her. Oh..the only difference is that Henry's cousin, Joss, will be staying in town and going to school with them.
Vlad's Uncle Otis still thinks Vlad needs to be careful and soon finds that a hired vampire killer has been sent to kill Vlad. At the Halloween party one of the other kids see's Vlad's eyes turn purple and he knows that Vlad isn't human but he doesn't know exactly what he is. Then he see's Vlad levitate and gets a picture, good thing it's not a very clear picture.
Over winter break Vlad gets to go to Siberia with Otis and meet a very old vampire who is going to help train him in the different abilities of vampires. Vlad is excited about this but also worried because he doesn't want to learn to take over people's minds and force them to do things and that's one thing he has to work on.
Once back in his home town, Vlad learns who the hired killer is and who hired the killer. He also learns why other vampires are after him.
Now what you really want to know....my thoughts:
I thought this was another fun book in the series. It doesn't seem look like too much is really going on, but it flows well and keeps my interest. There's still stuff going on..we still know somebody is out to get Vlad and he is learning more about his powers and vampires. It's fun to grow with Vlad as he tries to figure out how to talk to the girl he likes and deal with his best friend being popular. I think this is a fun YA series, I can't helping loving Vlad and wishing I could beat up the bullies for him. I'm very interested to see what happens in the next book when he's in 10th grade.
This book is part of my collection and was either bought or given to me.