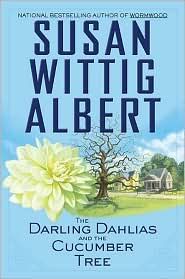 #1 Darling Dahlias
Copyright: 2010
Publisher: Berkley Prime Crime (penguin)
Genre: mystery
Pages: 283
Author's Website
My rating: 4/5
Simple Description:
This book takes place in the early 30's in a small Southern town. The Darling Dahlias is a gardening group. These ladies range from the wealthy and the working woman. The Dahlias have a new clubhouse, a house left to them by a woman who recently passed away. There are some rumors behind the land they received. It's rumored that a ghost haunts the property looking for her baby, silver, and/or jewels. The Dahlias are soon embarking on their own mysteries. Bunny Scott is found dead, at first it appears to be a car wreck but some of the Dahlias who knew her don't think so and they start asking some questions. Another Dahlia who works at the bank is accused of stealing money, but they know she didn't do it. Problem is, they don't know who did and with it being the Depression, there is a lot of concern about the bank closing. There is also the mystery of the escaped convict and whether or not he is still in the area or not.
Now what you really want to know....my thoughts:
I loved this book! What a great start to a new series by Susan Wittig Albert. I'm having trouble putting my finger on exactly what I liked about it, I just know that I did. We don't actually get to the first mystery until about 100 pages in, so don't expect this to be like other books. The characters don't find the body and immediately investigate. Instead, there are little things (and big things) going on in town that the different characters are interested in and decide to do some snooping or just happen to be in the right place at the right time to witness or help in something. This read more like a story of some women in a small Southern town than it did a mystery, at least to me.
I definitely think a lot of you will like this one. Just remember it's a cozy and not a harder mystery. Keep in mind that it seems the mystery is only a secondary part of the story but that the characters and their lives are the main thing (and I hope that doesn't scare any of you away from reading it).
Thanks to Penguin for providing this book for review.