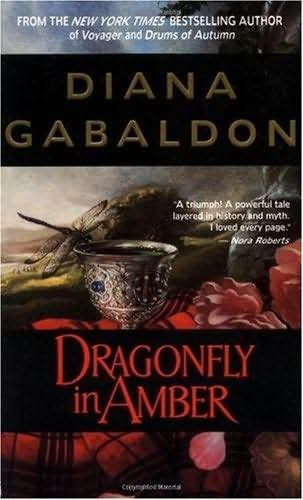 #2 Outland series
Genre: Fiction
Pages: audio
Challenges: audio book, year of the historical
Author's
Website
My rating: 2.8/5
Simple Description:
I don't believe I'm going to give anything away, especially when I looked at the description of the book on Amazon and this info was there. However, if you don't want to read the following description, I understand. Let me say this, I didn't read the description before listening to this book and I was rather confused at first and I think that set the tone for the book.
So...without further ado:
This book starts when Claire being out of the past into her present day, which is 1968 for us. She has a daughter, Brianna. Frank has passed away and this is the first time Claire travels back to Scotland and she brings her daughter with her. Her daughter looks a lot like Jamie. The first part of the book takes place in this setting, 1968.
Then we finally move on to when Claire is back in Scotland in the 18th century. They arrive in Paris where Jamie works for a relative who is a merchant. Lot's of stuff happens while in Paris. It appears a rumor is going around that Claire is a bit of a witch, which actually helps her out of a sticky situation. She gets bored and decides to volunteer at a local hospital, where she meets some interesting individuals. They are trying to keep Charles from going after the crown, yet have to appear that they support him.
Then we eventually move back to Scotland where it appears war is imminent and there isn't anything Jamie and Claire can do to stop it.
Now what you really want to know....my thoughts:
Ok..so I didn't go into a lot of detail with my description. There is just so much that happens and it's such a long book that it's hard to do that. I hadn't realized that the beginning of the book wasn't going to be set in the 18th century like the last one ended and it really threw me for a loop. I was confused for a bit and I think that really set the tone for the book. It picked up for me once Claire went back in time telling her story. However, it was just so looooong. Some things seemed to drag, I spent a lot of time thinking ok..let's move on. There was a lot of me just wanting the story to end.
I'm glad I did finish it though, I ended up liking it more than I expected to or thought I would based on the beginning. I liked it enough to plan on reading the 3rd book in the series. I just can't rate it higher because I did think it was too long and I did want it to end. I was tempted to stop listening to it several times. I will say that the 2nd half was much better than the first and kept my interest more. By this point, I've invested too much time the story of Jamie and Claire to just stop. lol!
Also, one thing that was a pet peeve, if you will, it's really annoying that Jamie keeps telling Claire that she is his. "You are mind Claire. Mine!" Yeah..that just rubs me the wrong way. I know that it's the 18th century and I'm a product of the 20-21st century. That's the only reason it doesn't bother me more than it would if I was reading a more modern book.
Audio Review
Davina Porter is the narrator for the audio version of Dragonfly in Amber. I think she does a wonderful job. She changes her voice for Jamie and Clair (and others). You don't have any trouble telling when the speaker changes. Davina is very easy to understand. I love that she does speak with a Scottish accent as well, that really helps bring the story to life. I can honestly say that if I had read the book instead of listening to it, I probably would have given up on it. I highly recommend this book in audio.
Keep in mind that it is in 2 parts, a total of 33 disks. I rented this from the library (requested it online) and somehow got lucky that I selected one of the part 1 disks to rent first. I knew that the cover said 33 disks and part 1 and that this was disk 1-17, but evidently that didn't register with me because when I was finished with part 1 I was surprised that the story wasn't over. haha! I then had to rent part 2 and waited a couple weeks before I could get my hands on a copy.