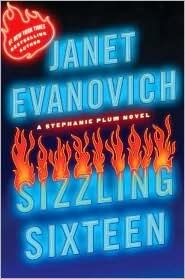 #16 Stephanie Plum
Copyright: 2010
Publisher: St. Martin's Press
Genre: mystery
Pages: audio
Challenges: Stephanie Plum Challenge
Author's
Website
My rating: can't decide, ranges from 2/5 to 3/5
Simple Description:
In the latest Stephanie adventure we get a bit of a different story. While she is still chancing after some skips and having trouble catching them, the bigger story is that Vinnie has been kidnapped. He's being held by his bookie for a $700,000 (and growing) ransom. His bookie is one mean guy. Connie, Stephanie, and Lula must find him before he is killed.
Now what you really want to know....my thoughts:
I recently listened to
#15
in this series and my thoughts on this one are pretty much the same. Too many things are being repeated, yet I still find the story fun at parts. I did find myself smiling sometimes with this one. Yet, I found that in the beginning I was more annoyed than anything else.
I do like that Connie plays a bigger role in this one, she has a great character. I also like that it was different in that they were trying to rescue Vinnie and it wasn't just Stephanie accidentally getting caught up in something dangerous.
Will I listen to #17 when it comes out (assume next year)? I don't know. Jury is still out on that one. I might just give up and say I'm done with the series, but I might just rent the audio out of habit.
This audio book was rented from my local library.