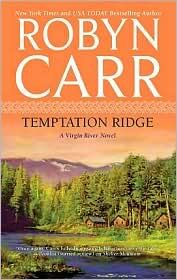 #6 Virgin River Series
Copyright: 2009
Publisher: Mira
Genre: fiction
Pages: 416
Author's
Website
My rating: 5/5
This is the 6th book in the series and it would be really hard to review it like I normally do, so I won't. The thing with this series, so far each book has focused on two different characters, however the characters from other books always show up. While you can read this as a stand alone and probably be ok, I think you would be missing a lot of it if you did it that way.
This book focuses on Shelby and Luke. Shelby we have met in a previous book and we know she recently went through some things (I don't want to say what in case you decide to read this series). She heads to Virgin River to live with her Uncle for a couple months while she decides what to do next. She knows she wants to travel and go to school, but first she needs to rest.
Luke is a newcomer to the series. He bought some land with some cabins and a house awhile ago and is now moving into the house in hopes of fixing up all the places and either selling them or renting them out. He has that bad boy imagine and doesn't seem to have any ties other than his Mom and brother's. He seems to fall head over heals for Shelby though. Luke doesn't want to admit he is falling in love with her though, and while they get together, he tries to not get too attached. It proves hard to do.
Mixed in with the story of these two characters, there is more that happens with the characters from Virgin River that we already know and love. I don't want to give anything away so I won't say more.
You already know how much I love this series due to this
post
. I absolutely love this series and I think this just might be my favorite book so far. This series touches on some subjects that are very personal and emotional for me. This makes the books hard to read sometimes, yet I keep coming back for more. I can't help it, I'm in love with the town and the people. If I could, I would pack up and move to Virgin River today. I'm sure they need tech support in that small town.
This book is part of my collection and was either bought or given to me.