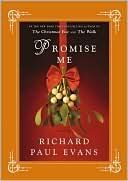 Copyright: 2010
Publisher: Simon & Schuster
Genre: Fiction
Pages: 334
Challenges: Holiday Reading Challenge
Author's
Website
My rating: 4/5
Simple Description:
Beth believes she has everything she could ever want in life. She has a loving husband and a wonderful 6 year old daughter. Then her perfect world starts to crumble. First her daughter begins to feel sick and the Dr.'s don't really have a diagnosis. Then she finds that her husband has been cheating on her. She kicks her husband out of the house but deep down she loves him. She decides to take him back and feels they can move on, only to find that he is dying from cancer.
She feels like things won't get better but then she meets a handsome young man Christmas morning. He seems too good to be true. Some things are a little strange though, just some things he says. He is able to diagnose what is wrong with her daughter and he sometimes knows things that he shouldn't.
When she finds out what is going on, she has to make the toughest decision she has had to make so far. Does she let this love go or does she hang on to it?
Now what you really want to know....my thoughts:
I've been a fan of Richard Paul Evan's books for awhile. This book did not disappoint. I was captivated with Beth's story from the beginning. I wanted to know what was going on with this handsome stranger. I was hoping Beth's life would make a turn for the better.
I don't know how the author does it, but he does have a way with writing Christmas stories that warm the heart. The characters usually go through some kind of heart ache but of course it all works out in the end, which is exactly what I want with a Christmas novel.
If you have been a fan of the authors work in the past, I don't think you'll be pointedness with this one. It was a great start to the Christmas reads for this year.
Thanks to Simon & Schuster for providing this book for review.