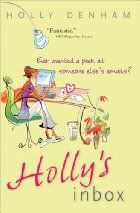 #1 Holly's Inbox
Copyright: 2009
Publisher: Source books
Genre: Fiction
Pages: 672
Challenges: Chick Lit
Author's
Website
My rating: 3/5
Simple Description:
This book is told in email format, so don't let the size turn you away, it's actually a rather quick read. Holly begins work as a receptionist for a big Banking firm in London. She had 2 years of reception experience on her resume, but finds it hard to get the hang of things at first.
Sheila, often called the Viper or Cruella, appears to have it out for Holly. If that wasn't bad, one of her old school mates also works there. Soon Holly is getting close to one of the guys who works there, could this be the guy of her dreams? Then an old boyfriend shows up and puts Holly on edge.
As if she didn't have enough problems with her life, she has a friend who seems to be out of control and a family that makes the rest of our families seem normal.
Mixed in with all of this is that you soon realize there is more to Holly than you first realize. She is hiding something or possibly several somethings.
Now what you really want to know....my thoughts:
Here's the thing, I've had this book on my radar since it was published in 2009 and I started to see positive reviews. I've read some email format books in the past and really liked them and I've also enjoyed a lot of chick lit in the past. So of course I had to read this one.
The problem is, this book fell a little flat for me. It wasn't nearly as good as I expected it to be. It was still good, don't get me wrong. I did rate it 3/5 which means "good" for me. I think part of the problem is that while it's said to be email format, it really reads and acts like IM format. The emails are incredibly short and you don't always get a lot of info. I found myself not even reading the subject lines because it read like an IM and not an email where there should be subject lines. This in turn means I sometimes missed some info, although it was easy to ready the subject line when I realized this. I found that I much preferred the emails that were a bit longer and contained more info.
Another problem is that I don't think I like chick lit as much as I used to. I just found this a bit silly and at times it didn't really do it for me. I was thinking about this and realized that I've barely read any chick lit this year. That made me realize that I think I've moved on. While I've loved chick lit in the past, I think it's just not for me anymore.
There is a sequel to this book (or possibly this will be a series and there are just two of them for mow). Part of me is tempted to read it, because by the end I really did want to know what happened to Holly. However, I kinda doubt I will.
If you enjoy chick lit, I think you'll like this one. For me, maybe I just expected too much from it.
This book is part of my collection and was either bought or given to me.