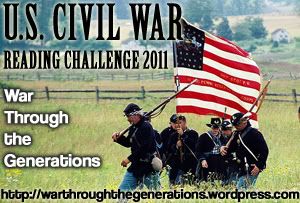 Anna and Serena let readers choose the topic this year and I'm happy to report that the Civil War won. I'm happy because I've had some Civil War books I've been wanting to read but have been putting off in hopes we would get to this war soon for this challenge. haha!
The War Through the Generations Challenge
has quickly become one of my absolutely favorite challenges to participate in throughout the year. History was something I wasn't always interested in while I was in school but have since become a lover of. Why war seems to be a favorite topic of mine is beyond me, but it is. This challenge gives me the opportunity to actually read about wars American's have fought in and learn something. Even if it is a fiction book, you can still learn about the war.
Here are the rules:
This year you have options when reading your fiction, nonfiction, graphic novels, etc. with the U.S. Civil War as the primary or secondary theme.
Books can take place before, during, or after the war. Books from other challenges count so long as they meet the above criteria.
Dip: Read 3-5 books in any genre with the U.S. Civil War as a primary or secondary theme.
Wade: Read 6-10 books in any genre with the U.S. Civil War as a primary or secondary theme.
Swim: Read 11 or more books in any genre with the U.S. Civil War as a primary or secondary theme.
Additionally
, we've decided that since there are so many great movies out there about U.S. Civil War, that
you can substitute or add a movie or two
to your list this year and have it count toward your totals. We nabbed this idea from a few challenges in 2009, particularly
The Everything Austen Challenge
at
Stephanies's Written Word
.
**Note**
*Participants anywhere in the world are eligible for most prizes in the post-challenge drawing!**
*Prize drawings will be for participants finishing the minimum 3-5 books.
*Participants can always read more than their initial goals, and even if you sign up for 11+, but read just 3-5, you officially completed the challenge and are eligible for prizes.
You can decide which books you'd like to read right away, or you can choose them during the course of the challenge. Check out theRecommended Reading: U.S. Civil War (page is coming soon) page for suggestions.
***Attention Participants***
We wanted to try something a little different this year, and we thought that it would be fun to do a group review here on War Through the Generations midway through the challenge. Book to be determined in the coming months.
How to sign up:
Leave a comment on this page with your reading goal. Please spread the word about the challenge on your blogs. Feel free to do a sign up post and leave a link to your post here.
Everyone who signs up will be listed on the U.S. Civil War Challenge Participants page.
Sign ups will be ongoing.
**Once you've signed up, please visit the Buttons page to snag some for your blog for use in your sign up post and book reviews! (New U.S. Civil War Challenge buttons forthcoming)**
In the past I have stuck with only reading 5 books. This time around I'm going for 6-10 (Mostly because I can watch movies and this gives me a good excuse to re-watch some good films, Glory anyone?) I'm also excited that they will be doing another read-a-long. I loved reading Paco's Story with a group and getting different thoughts and feedback, really made me appreciate the novel more and get more out of the story.
Here's a tentative list of books I'll be reading for this challenge. These are ones that I already own. I don't own any others (that I can remember anyway), so I'll have to add titles as I read reviews or come across them. Of course, I'll be watching some movies too. I would like to add at least one non-fiction book to the list either, hoping they get some good suggestions on the challenge blog. Or..better yet..what do you recommend?
One Wore Gray by Heather Graham
And One Road West by Heather Graham
The Widow of the South by Robert Hicks
The Widow's War by Mary Mackey
A Voice From the Border by Pamela Smith Hill
Enemy Women by Paulette Jiles