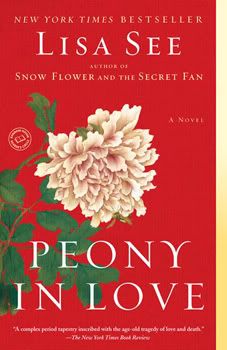 Copyright: 2007
Publisher: Books on Tape
Genre: fiction
Pages: audio 9 disks (13 hours 13 min)
Challenges: Off the shelf, Audio, I want more Challenge
Author's
Website
My rating: 1/5 DNF
Simple Description:
This story is set in 17th century China and is told from the point of view of Peony..starting from when she is a young girl soon to be married and continuing once she is a ghost. Peony is struck with love sickness after she secretly meets a boy she believes she loves but knows she can't marry him since she has an arranged marriage. She spends her days refusing food and writing. Soon, she wasts away and becomes a ghost. Once in the after life she meets her Grandma and learns the real story about what happened to her ancestors. She also meets other women who have died from love sickness. However she still wants the boy she fell in love with.
My Thoughts:
Ok. so my description isn't that great. I'm sure it doesn't do the book justice. The thing is, I really didn't like this story. I listened to most of the audio version before giving up on it. I listed to 6 out of 9 disks. I was forcing myself to finish it, expecting it to get better, but it wasn't. I really didn't like the main character. I realize the traditions of the time and culture are incredibly different from what they are in present day America, but that didn't help. I thought the main character was selfish and I couldn't connect with her at all. This kept me from liking the book.
I really wanted to like this book, I loved Snow Flower and the Secret Fan by the same author. I had high hopes I would enjoy this one too, but it was a big disappointment for me.
Audio Review:
Janet Song is the narrator for the audio version of this book. I think she did ok. I thought her voice or tone was annoying at times and didn't really flow for me, but I don't think that had anything to do with me not liking the book. I'm sure if I had liked the story more, it wouldn't have bothered me at all.