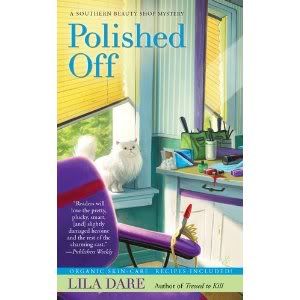 #2 Southern Beauty Shop
Copyright: 2011
Publisher: Berkley Prime Crime
Genre: Mystery
Pages: 293
Challenges: Crusin' through the cozies, Pub Challenge
Author's
Website
My rating: 3.5/5
Simple Description
:
The second book in the series once again starts with Grace, her mother Violette, and the other ladies working in her Mom's hair salon. It's a normal day until Audrey Faye shows up asking for help. She is running the local beauty pageant and wants to hire Grace and Stella to do hair and nails. Grace jumps at the chance to earn extra money since she's wanting to buy her own house.
Things at the beauty pageant don't go as planned. First off there are protesters. They are against the beauty pageant and don't mind letting people know. Then Grace finds that somebody is sabotaging the pageant. To make matters worse, Grace is looking for Stella when she finds Audrey, dead.
When Stella's husband is the prime suspect in the murder, Grace decides to ask question and tries to clear his name.
My Thoughts:
I thought this was an excellent cozy! I just love Grace..she's such a strong female character, although she does have her faults. This just makes her more real though. In fact, there are several strong female characters and I love that.
The author also uses this book to raise questions about beauty pageants. She smoothly weaves into the story things that show the good and the bad about beauty pageants.
The mystery aspect of the story was good and kept me going. I had ideas of who the murder was but wasn't sure about who was sabotaging the pageant until Grace found out.
This is definitely a good mystery. The writing is clear and flows well. The story keeps moving and kept my interest. I think this is one that cozy fans will enjoy.
Thanks to Penguin for providing this book for review.