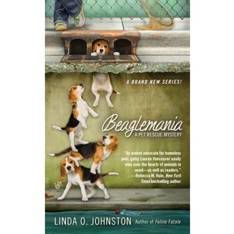 #1 Pet Rescue series
Copyright: 2011
Publisher: Berkley Prime Crime
Genre: Mystery
Pages: 304
Challenges: 1st in a series, Crusin' through the cozies, 2011 Pub Challenge
Author's
Website
My rating: 3.5/5
Simple Description:
Lauren Vancouver is the director of HotRescues, a no-kill animal shelter. Lauren is very passionate about her job and about animal abuse and sometimes that can land her in trouble. Lauren ends up at a puppy mill as the city is raiding it and she finds Efram Kiley. Efram sued HotRescues and as part of the bargain he has to "volunteer" there so he can learn about treating animals correctly. Unfortunately he hasn't learned anything since Lauren knows he's the one who dumped some of the puppies from the puppy mill down a sewer drain. Lauren threatens him..he threatens her, then he ends up dead. Lauren finds him at HotRescues near the animal cages.
Lauren is the top suspect and since she doesn't think the authorities are looking at anybody else, she decides to look into it herself. Unfortunately, her life and some of the dogs live's are put in more danger until she's able to figure out who the real killer is.
My Thoughts
:
I thought this was a great start to a new series. I also thought it was fun that Kendra, the main character in the author's pet-sitter mystery series, shows up in this one. She has a small role, but it was still fun to see her make an appearance. It also reminded me that I'm incredibly far behind in that series and I need to play catch-up. That's another topic for another day though.
Lauren is very passionate about what she does and about the welfare of animals. While sometimes I think this gets her into trouble, I think it works out great for this book/series and it gets the point across about how abusing animals is just wrong. Lauren is a good character though, I think she'll grow in future books and I look forward to seeing it.
There are a lot of other characters, including a possible love interest for Lauren, and while we don't know too much about any of them, I look forward to learning more about them.
Overall, I really enjoyed this cozy and I'll be looking for book #2 this time next year. I do want to point out that there is some light cursing in this book. It's mostly in the first half of the book, I'm not sure I noticed it in the 2nd. It's not something that bothered me at all, heck, I'm probably worse in real life. However I wanted to say something since it isn't something you normally see in a cozy.
Thanks to Berkley Prime Crime/Penguin for providing this book for review.