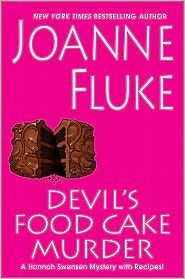 #14 Hannah Swanson/Cookie Jar Mystery
Copyright: 2011
Publisher: Kensington
Genre: Mystery
Pages: audio
Challenges: crusin through the cozies, audio, 2011 Pub Challenge
Author's
Website
My rating: 3/5
Simple Description:
This one starts out with a bang, there is something fishy going on almost right away. Rev. Bob and his new wife are finally able to take a honeymoon when they run into visiting minister who knows the family. Matthew lived with Bob's Grandma Knudson when he was in high school and she was the minister's wife. However shortly after being reunited with Matthew, Grandma Knudson things something isn't right. She asks Hannah to look into her suspicions. With Andrea's help, Hannah is able to explain away Grandma Knudson's suspicions. Then Matthew turns up dead. And the real Matthew comes in to town. Or is he?
With one body and another suspicious person, Hannah has her hands full. However she's also dealing with things on a personal level. There's still the issue with her not making up her mind between Mike and Norman. Then Norman brings Dr. Bev, his ex-fiancée, into his practice as a partner, and he starts acting weird. Hannah wants to know what's going on.
My Thoughts:
While this is still one of my favorite cozy series and while I did enjoy this book, I really wish Hannah would make up her mind between Norman and Mike. I think we all know Norman is the best guy for her, she just needs to get over how hunky Mike is. If I have one complaint with this series..that would be it..the fact that Hannah cannot pick one guy to date.
Other than that..I thought this was a good addition to the series. We get to meet with our favorite characters. We get more cookie recipes that I always want to try baking right away (but rarely do).
I do recommend this cozy series to those who enjoy a light mystery, but definitely recommend starting with book one.
Audio Review:
I did listen to the audio version of this book. I plan to buy a copy still, I want to add it to my collection and I want the recipes. I thought the audio version was good. Suzanne Toren was the narrator again and I felt she did a very good job.