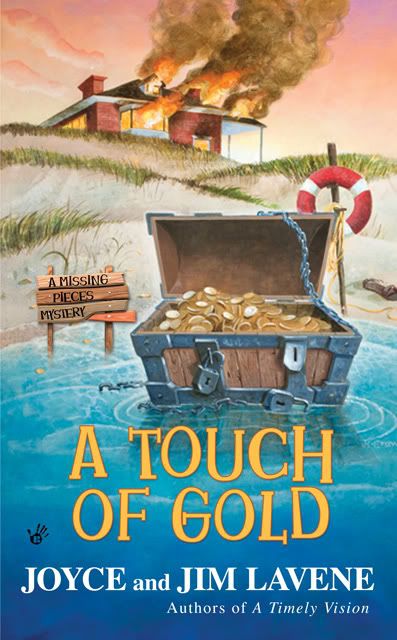 #2 Missing Pieces series
Copyright: 2011
Publisher: Berkley Prime Crime
Genre: Mystery
Pages: 304
Challenges: What's in a Name, Crusin Through the Cozies, 2011 Pub Challenge
Author's
Website
My rating: 3.5/4
Simple Description
:
The story starts off with us hearing one of the stories from Duck's history along with a group of children. Max, the curator of Duck's history museum, is telling the story and Dae is there to listen and participate since it is story hour with the Mayor. After the story is over and the children get some refreshments they head back to school. Dae starts to leave to but turns around when she realizes she forgot to give Max one of the gold coins she found on the floor. It's then that the museum explodes, killing Max and hurting Dae.
When Dae recovers, she finds her abilities have changed. She can still find lost objects for people however now she can also get information about objects when she touches them.
Through these new visions Dae learns that the pirate gold Max found years ago, wasn't really found by him but was given to him. She wonders if this had something to do with his murder.
Soon Dae and Kevin are doing some investigating on their own to try and find who killed Max and who attempted to kill the wife he left behind. Sure, the authorities are looking in to it, but Dae is pretty sure they are wrong.
My Thoughts
:
I thought this was a great follow-up to the first book in the series. In fact, I liked this one even more. I think with the first one, while I liked Dae, I did have some issues with her. In this book, I didn't feel like I had any issues with her. I thought she put her life at risk but don't all amateur sleuth's at one point or another? I really like the characters of Dae, Kevin, and Gramps. They work really well together and I really like them.
The mystery aspect of this one kept me guessing until pretty close to the end. I really had no idea who the murder was for most of the book, but a clue towards the end pretty much told me who it was before Dae figured it out.
I also liked how one mystery about a person who used to live in Duck, was kinda solved. At least, we got more info on it and it did have relevance to the story and it was a nice twist. I won't say more than that though.
If you read the first one in this series and enjoyed it, I definitely recommend reading the second one. I'm pretty darn sure you'll enjoy just as much, if not more.
Thanks to the publisher for providing this book for review.