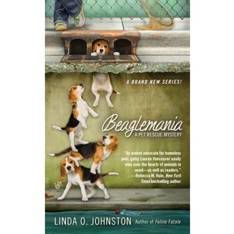 I'm very happy to be able to host a guest post by Linda O. Johnston, author of the new pet rescue mystery series and offer a give away for the first book, giveaway sign-up is at the end of the post.
Thank you Linda for taking the time to write a great post for my blog!
First of all, I want to thank Kris for inviting me to guest blog here.
I also want to send my greetings, and my dogs' greetings, to Myla, Kris's pup. I learned about Myla because I hadn't previously discovered the Not Enough Books Blog, so I read some of the prior posts to get a sense of its contents and tone.
I discovered a post in early February about Myla, who seemed to understand when Kris had some minor surgery done, and even tried to comfort her. Kris ended her post with, "I feel sorry for those who can't (or don't) spend their lives with a pet."
I love animals. I'm probably obsessed by them. And that's why I write books that feature them.
This month, my new Pet Rescue Mystery series debuts with BEAGLEMANIA. The series is a spinoff from my Kendra Ballantyne, Pet-Sitter mysteries. Both are from Berkley Prime Crime. Do you sense my theme here?
I consider Kendra an alter ego of mine. She's a lawyer who lives in the Hollywood Hills with her Cavalier King Charles spaniel, Lexie. I've been a lawyer, and I live in the Hollywood Hills with my two Cavaliers, Lexie and Mystie, as well as my husband. I've fortunately never become a murder magnet, though.
The protagonist of my new Pet Rescue Mystery series is Lauren Vancouver, the director of HotRescues, a no-kill animal shelter. She was introduced in HOWL DEADLY, the eighth Kendra mystery, and also appeared in FELINE FATALE, the ninth. I adore Lauren and her obsession with saving animals, but I didn't think she'd become an alter ego of mine, too.
But that was before I started researching her stories. I met with pet rescuers of many kinds. I visited shelters, both public and private. I talked to people. Met animals.
Now I volunteer at a private shelter, Pet Orphans of Southern California. I'm a dog adoption counselor, which means I both screen potential adopters and introduce them to dogs they might fall in love with. It's always such a thrill when a match works and the people I've first screened bring a dog to its new forever home.
I'm also the Los Angeles Pet Rescue Examiner, for the Examiner.com website.
Lauren's way of dealing with animals is different from mine. Her obsession is even more complete, and she does a great job of helping the animals with whom she comes in contact. BEAGLEMANIA begins with a rescue from a puppy mill. Some of Lauren's later adventures will involve an animal hoarder and a shelter that takes in unadoptable pets.
But I can still identify with her.
Check her out, and let me know what you think. Maybe you'll identify with her, too!
By the way, in the Pet Rescue Mysteries, "no-kill" means pets, not people....
Please come visit me at www.LindaOJohnston.com and at www.KillerHobbies.blogspot.com on Wednesdays. Friend me on Facebook. I'd love to hear what you think of pet rescue--and BEAGLEMANIA!
************************************************************************************
I am very happy to be able to offer a copy of
Beaglemania by Linda O. Johnston
to one lucky reader!
This giveaway is open to anybody who has a US mailing address. So for those international readers, sorry it can't be mailed directly to you but if you have somebody willing to ship to you..you can still enter if you have a US mailing address for the publisher to send to.
The giveaway is open from March 14th through March 25th (ends at midnight, central time). I'll used random.org to pick a winner and will announce the winner on my blog on the 26th.
Goodluck!